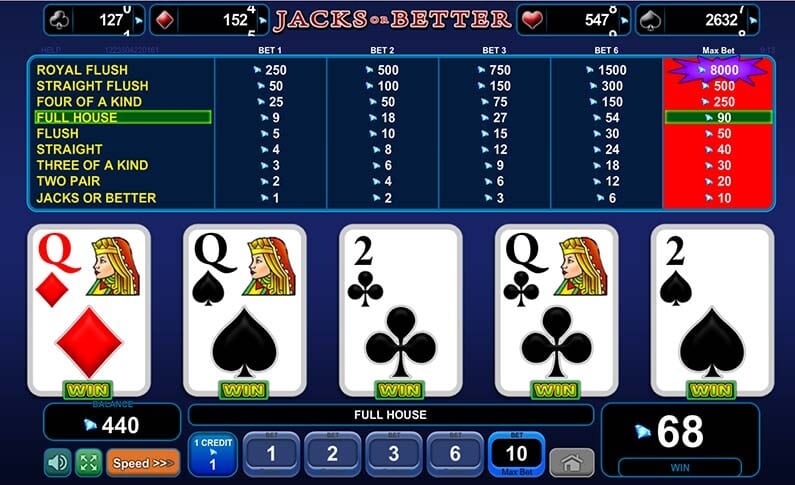 Playing Strategies and Tips on How to Win in Jacks or Better by Playtech
While many casino games are defined by randomness of every spin, there are classic casino games that are anchored on skill and confident play. Without the skills and competence to make wagering calls, these games can mean trouble for casino enthusiasts. This is exactly the challenge for players who want to try video poker. As a classic casino game first introduced in the 1970s, video poker has changed the way players see casino games. Video poker tests your skills, and how you make judgments based on the available cards. The general objective of video poker is simple – player chooses the number of coins to play, and the system dispenses 5 cards. The player then chooses what cards to hold and discard, and the system pays based on the value of the remaining. It's a test of skills and confidence, and exactly the same features that can be found in Jacks or Better by Playtech. While there are dozens of other video poker variants online today, Playtech's Jacks or Better is considered one of the most popular, challenging yet profitable to play!
Know the Different Hands that Deliver Payouts
Before the start of the game, you need to set the number of coins, ranging from 1 to 5 coins, or $0.05 to a maximum wager of $10.00. Once the game has been started, the system will offer 5 cards, and you need to select 3 cards to hold, and the payout will depend on the value of the hand. As the name suggests, you can start winning if you can have at least two Jacks. In short, to enjoy this Playtech offering, it is highly recommended to understand the hands used in Jacks or Better. Here are some of the hands that you need to check out in case you want to explore the possible payouts and entertainment that can be provided by Jacks or Better.
High and Low. Since the basis is the Jack, a high card means any card higher in value than a Jack. Low cards on the other hand, are cards with values lower than Jack, like the cards from 2 to 10. High-value cards are Kings, Queens and Aces
Royal Flush and Straight Flush. You're lucky if you get this hand since it offers the best payout. This refers to 5 cards, arranged in sequential order, in similar suits, starting with a '10', ending with Ace. The Straight Flush on the other hand, also features 5 cards in sequence, but works up to '10'
Four-of-a-Kind and Three-of-a-Kind. These are your 4 cards, carrying the same value. For example, you can get 4 'Queens' or 4 'Threes'. The three-of-a-kind is just a variation of four-of-a-kind, where there are three similar cards, like 3 'Queens'
Full House. If you can get three-of-a-kind, and another pair, like a pair of 'kings', then you get the Full House
Flush. There are five cards in your screen, all sharing the same suit
Straight. This set refers to 5 cards that are arranged in order, not necessarily sharing the same suits
Two Pairs. This means you have two pairs in your screen, like 2 'Aces', accompanied by 2 'fours'
These are just some of the popular hands that can bring out the payouts in Jacks or Better. This Playtech game has a pay-table which can be opened just before playing this video poker for money.
Strategies to Try Out Playing Jacks or Better
Of course, massive winnings can be earned if 5 coins are played, instead of just one coin. If you wager 5 coins, you get a chance to win as much as 4,000 coins in this game. Beginners can opt to manage their bankroll by starting with small wagers, like a coin or two per game. While this approach may deliver winnings, it will not result to massive coin jackpots. Aside from this common suggestion, you can also count on the following tips and tricks below:
If the cards reveal four cards leading to Royal Flush, get rid of the fifth card on the screen
Watch out for the High Pair, Three-of-a-Kind and Straight, since these combinations easily trumps three-to-a-Royal Flush
It is never recommended to break possible combinations of Full House, Two Pairs, Three and Four-of-a-Kind
Always keep your High Pair, unless you see that your cards can develop Four-Cards-to-a-Royal Flush or a Straight Flush
It is also best to keep your Four-to-a-Flush, Straight and High pair, if you notice that your are two cards short from the Royal Flush
If you think that you are not getting any of these hands, you are better off discarding the present cards, and let the system draw a new batch. Compared to other instant casino games out there, playing Jacks or Better by Playtech requires a solid understanding of the hands, the payouts (courtesy of the game's pay-table) and some skills. The random generator or bonus rounds cannot rescue you from the bad cards – what you need is a complete understanding of the hands, a good betting strategy and some good old skills to test and win against the system!
Other Jacks or Better varieties that we offer you to play for fun here on the site, try them out today and see if you can deploy the same strategies as above, good luck!
Top 5 Casinos with Playtech Games