We require visitors to be 18 years or older to access demo games, please confirm that you are 18+
Jacks or Better Introduction
Unlike the regular slots game that are anchored on chance and the random number generators, video poker offers player a chance to tap on their skills. And skills are exactly what players need in order to experience the thrill and entertainment and win in video poker games like Jacks or Better. Just like other video pokers in the market, Jacks or Better is also based on the five-card draw poker, and often a popular draw in brick-and-mortar casinos. But Jacks or Better from Playtech is not your ordinary video poker game; it's considered as the best in the business, thanks to the simple game-play and the potential for huge payouts.
Jacks or Better Details
There are a number of reasons why this version of Playtech is considered the best in the business. For a start, Jacks or Better offers one of the best betting range in the market, with a minimum bet worth 0.25 cents/pennies, and this can be scaled up to 25 if the you are adventurous enough. Dramatic theme and design are not part of the game plan of Playtech for this game. Instead, players are treated to a basic game-play and game design, where five cards are arranged neatly in a green cloth. As a single-hand video poker game, this offers a maximum prize of 20,000 in cash, and a house edge of 0.48 percent.
How to Play
To start a video poker game, you need to place a bet. Once the bet has been settled, the system will deal you the cards, and you can Hold the cards, or Draw the cards. In order to win in this game, players should get at least two Jacks to win, hence the name of the video poker game. Each game starts at 0.05 for every line, and the maximum wager that you can use is 25. Wagers can be adjusted using the '-' or '+' signs that can be found in the window.
Gamble Feature of Bonus Round
Playtech understands the players' need for more winnings, thus it offers a Gamble Feature or the Bonus Round. The Gamble Feature is actually a regular item in many Playtech games. This can be activated the moment a player gets a winning hand. If you get a winning hand, the system will show a prompt that will inform you of a chance to double your winnings. You can pick from these three available options:
Double - Player gets a chance to double his winnings, but if he loses, all winnings are gone.

Double Half - Player gets a chance an extra half based on the amount he won in the game. If he loses in this proposition, he will lose half of the winnings. This is a 'relatively safe pick' since all is not lost.

Collect - Player walk away with the winnings, and considered the safest of all three options.
This feature of the game can be played by any player until such time he loses all his winnings, or decide that it's time to collect the earnings and go home.
Key Game Features
Simple game-play
Great and friendly betting range
Mobile-friendly
Offers gamble feature/Bonus round
Offers player flexibility and customization
Conclusion
There's no denying the fact that Jacks or Better is a winner in the hearts and minds of many casino enthusiasts and players. The game is easy to play, and taps into the skills set of players, thus adding to its appeal among established players. Also, Jacks or Better from Playtech offers the Gamble Feature, which is considered heaven-sent by many video poker players and casino enthusiasts. Browse through our online casino bonuses section to find a bonus to get started, or simply play for free - today!
Top 10 Playtech Casinos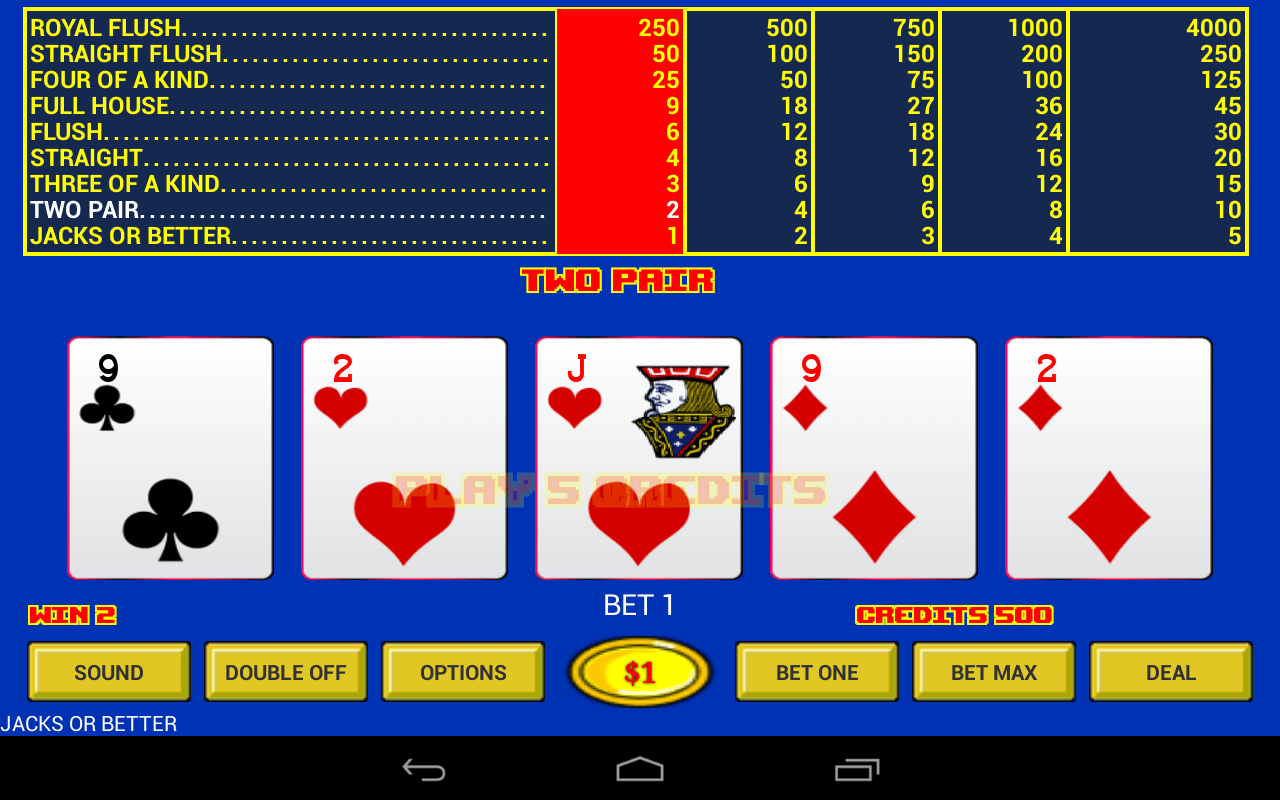 try more games