We require visitors to be 18 years or older to access demo games, please confirm that you are 18+
When you think of a traditional poker game, a certain picture comes to your mind, but Jacks Or Better 1 Hand, from the team over at
NetEnt
, is there to surprise you. It is anything but a conventional game of poker. Essentially though this video poker game does feature classic casino game characteristics, it is also an extremely fast game that is accompanied by huge payout ratio. You never feel like it is a traditional poker game, rather it is replete with look and feel of a modern computer game that is also extremely sophisticated and which has its requisite dose of thrill and excitement.
Top Features
The key feature that instantly attracts gaming enthusiast to this Casino Classic includes:
Fast game
High payouts
Non-progressive
Bonus
99% return prospects
This classic video poker game was designed by NetEnt and driven by the basic idea of ease of use and creating a winning formula for both gamers and casinos. Theoretically, the payout prospects are as high as 99.56%. Of course, players can use the gamble function to increase their winning amount and even look at doubling it.
Pairing Technique
It follows the traditional poker rules and is played by 1 hand. Gamers are allowed to use only 1 deck of cards, and they are always shuffled before each hand. Gamers could create Two Pair, Three of a Kind with three cards of the same value or a Straight, which comprises of 5 consecutive cards from different suits to get the most optimal winning strategy. They could also opt for a:
Full House with 3 cards of same value
Flush with 5 cards from same suit
Four of a Kind that has 4 cards with the same value
Or Royal Straight Flush, which has A, K, Q, J, 10 from the same suit.
The pay table on the screen gives instant updates to gamers about the combinations that would yield potential victory and help gamers decide on a winning combination, claim victory or go ahead with a bonus.
Gamble
This is almost like a jackpot in a regular
slots
game. After every hand, the players get a chance to double their winnings through this feature. Once you click on a Gamble game, it takes you directly to a bonus game where you can choose an appropriate suit or color of the card that would be visible at the center of the screen. In case you feel that enough bonus has been played for, and you would prefer for a payout, you can do so by simply clicking on the Collect Button.
Bet Limits
They are 5 major bet limits. Players have the option from a wide range starting from 10 cents up to 10 euros. This clearly means that you can bet from a minimum of 10 cents up to a maximum of 50 euros in every game. The bet option is same for everyone, be a high roller or a regular gamer.
Conclusion
All in all, you can say that Jacks or Better 1 Hand was designed for the masses. It is easy to play, in sync with modern trends and provides lucrative opportunities to one an all be it high rollers, gaming veterans or first timers in a casino. Browse through our online
casino bonuses
section to find a bonus to get started, or simply play for free - today!
Top 10 NetEnt Casinos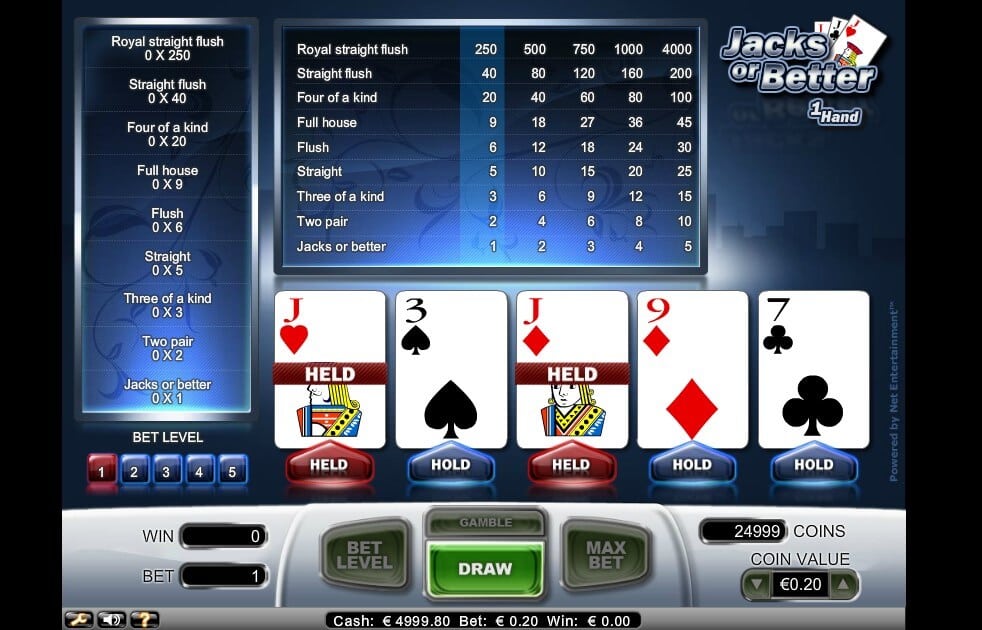 try more games