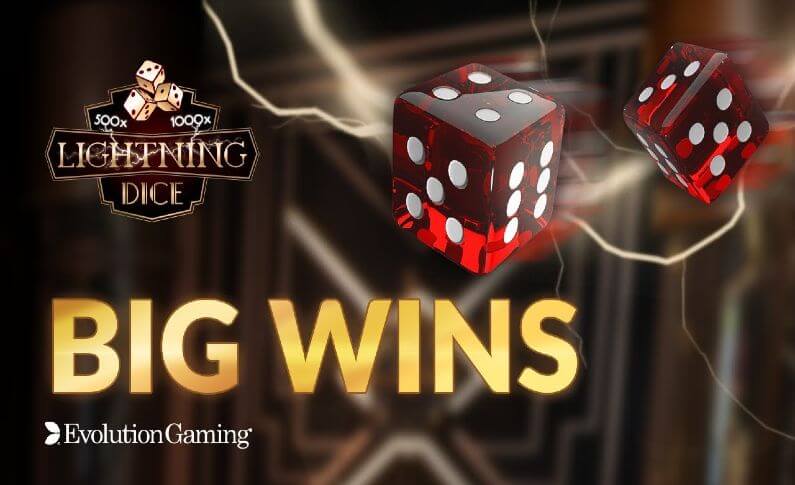 Lightning Dice and Lighting Roulette – Evolution Offers an Electrifying Way to Play Live Casino
When it comes to live dealer solutions, only a few designers and software vendors can compete with Evolution Gaming. Driven by a mission to make operators successful and provide and excellent user-experience to its customers, Evolution constantly delivers award-winning games and solutions. Whether it's all about the live dealer versions of baccarat, blackjack or roulette, Evolution steps up the entertainment value through innovation and features. 
More live game guides:
But more than its standard live dealer titles, the Swedish company is best known for its line of specialty within live dealer games. When you sign up with a casino that runs on the Evolution platform, you play not just the standard live dealer titles; you can also enjoy innovative and award-winning games that are redefining how live dealer games should be designed and played. And speaking of innovative and award-winning games, two live titles that are worthy of your attention are the Lightning Dice and Lightning Roulette.  
As part of the 'Lightning' brand, these two games are designed in black and gold Art Deco environment. Also, you will find lighting flashes that signal the arrival of huge multipliers. In short, the 'Lightning' brand electrifies your live dealer experience. But more than this feature, there are other exciting reasons why you should start playing Lighting Dice and Roulette, today.
Lightning Dice
Playable across devices, Lightning Dice is a recent addition to the Lightning family of Evolution Gaming. It's addition to the portfolio follows the success of Lighting Roulette, a recipient of the Game of the Year awards (2018). If you're all about aesthetics, this game covers the ground. Lightning Dice features an electrifying user interface and you can easily notice the stylish touch thanks to the use of black and gold Art Deco environment.
Easy and Fun to Play
This is a highly recommended game because it's fun and easy to play. Here, three standard dice are dropped into a 'Lightning Tower' by the professional dealer. The camera instantly zooms into the transparent tower and follows how it moves down. The main objective of the game is simple – just bet on the total of the three dice when it settles at the base of the tower. There's also an option to wager on all 16 spots.
Random Multipliers, Anyone?
Another appeal of Lightning Dice is the presence of random multipliers. Run by a Random Number Generator, it can boost your winnings by up to 1,000 times.
Lightning Roulette
For players who want something new and exciting from the standard roulette, then Lightning Roulette is the answer. In the words of the company's marketing team, this electrifying game blends the premium live roulette game and advanced RNG gameplay. This game boasts the usual roulette bets plus the opportunity to win in the Lucky Payouts and Lucky Numbers. The result is an award-winning live dealer game that can enhance your gameplay. Since it's part of the Lighting series, you will also notice the stunning backdrop in black and gold Art Deco environment.
Get Your Wins from Lucky Numbers and Payouts
As an award-winning game, Lightning Roulette is not just about visuals. Your main reason to play is the availability of huge multipliers and payouts. Aside from the standard roulette bets where you can win, this game also offers you a chance to collect a random multiplier. In-game multipliers range from x50 to x500.
After the placement of bets, the Lucky Numbers (1-5) and Payouts are randomly generated. A Lucky Number offers one Lucky Payout that ranges from 50 and 500:1 if the roulette ball lands on the Lucky Number and if the participant submitted a 'Straight Up' bet on that roulette number. Also, the non-multiplied Straight Bets receive a payout of 30:1. And all other wagers like red/black and splits are paid according to the paytable in a standard roulette game.
Find your top Evolution Gaming Casino today!