We require visitors to be 18 years or older to access demo games, please confirm that you are 18+
Wonky Wabbits Introduction
If the reason that you like to indulge in
Casino games
id for pure fun then this is the one for you. Wonky Wabbits is a funny slot game designed by
NetEnt
and represents an engaging and humorous casino experience for any gambling enthusiast. This video slot game has a very original approach, and the animation used in this game keeps the players entertained through the entire game. It is indeed one of the best juxtapositions of the NetEnt brand of game designing, full of fun and gains. The graphics, the music, especially the background score along with the sound effects coupled with the visuals leave a strong imprint on the viewer's mind and ensure that they remain glued to the screen till the last dice is spun. NetEnt has maintained to keep the humor intact while incorporating several lucrative
elements
to win over gambling enthusiast who are in it to make money.
The Overall Gameplay
The finesse in the overall gameplay is absolutely stunning. In keeping with the general format followed by most NetEnt games, it is a 5 reel game with 15 paylines. What is different though is the line up of the bonus features and the way they exactly stack up in the broad plan. The theme here revolves around a garden that is full of crazy varmints. It is needless to say that these rabbits are responsible for creating a lot of chaos and mayhem, though no one is hurt. As a result, the bonus features like the Wild symbols and other elements are aimed at keeping the overall creativity intact. The fundamental features in this game include:
Auto Play
Mobile
Bonus
Wild
Jackpot
Though this game is short of the usual progressive bonus and the enigmatic Scatter symbol, the high payout percentage exceeding 96% more or less compensates for it. The betting range is between 0.30-150, and the highest jackpot is close to 390,000 coins.
The Special Features
If the Scatter symbol ain't there to create a ruckus, how exactly do players manage to make gains in Wonky Wabbits slot? Well here are some of the unique and most talked about features of this game.
Watch the Wabbit Go Wild!
As you would have guessed already, this essential constitutes the Wild symbol. Once this symbol is initiated on completing a winning combination anywhere on the screen, it gets animated, and a Wonky Wabbit pops its heads through it.
Wild Duplication Feature
This is perhaps the key feature of this game and one of the primary posts to hold the various elements of the game together. When this symbol gets activated as a result of the player having a Wild across the reels, the symbols which might be placed next to it get transformed into another Wild symbol. The results quite understandably can translate into big wins, especially if you hit multiple wild symbols on the reels. In fact players can potentially earn as much as 390,000 Coins with the activation of this symbol.
Conclusion
NetEnt has always been associated with some show stopping, superbly designed online gaming products. The beauty of their gaming solutions is also in its novelty to an extent. Wonky Wabbits is no exception to this rule. On the outset, you might feel that a game short of
free spins
, the bonus could hardly hold interest but the Wild Duplication feature compensates for what is perceived to be lost. In unveils huge prize potentials and reminds players time and again that if you focus on the right perspective, a big prize is never too far away.
Top 10 NetEnt Casinos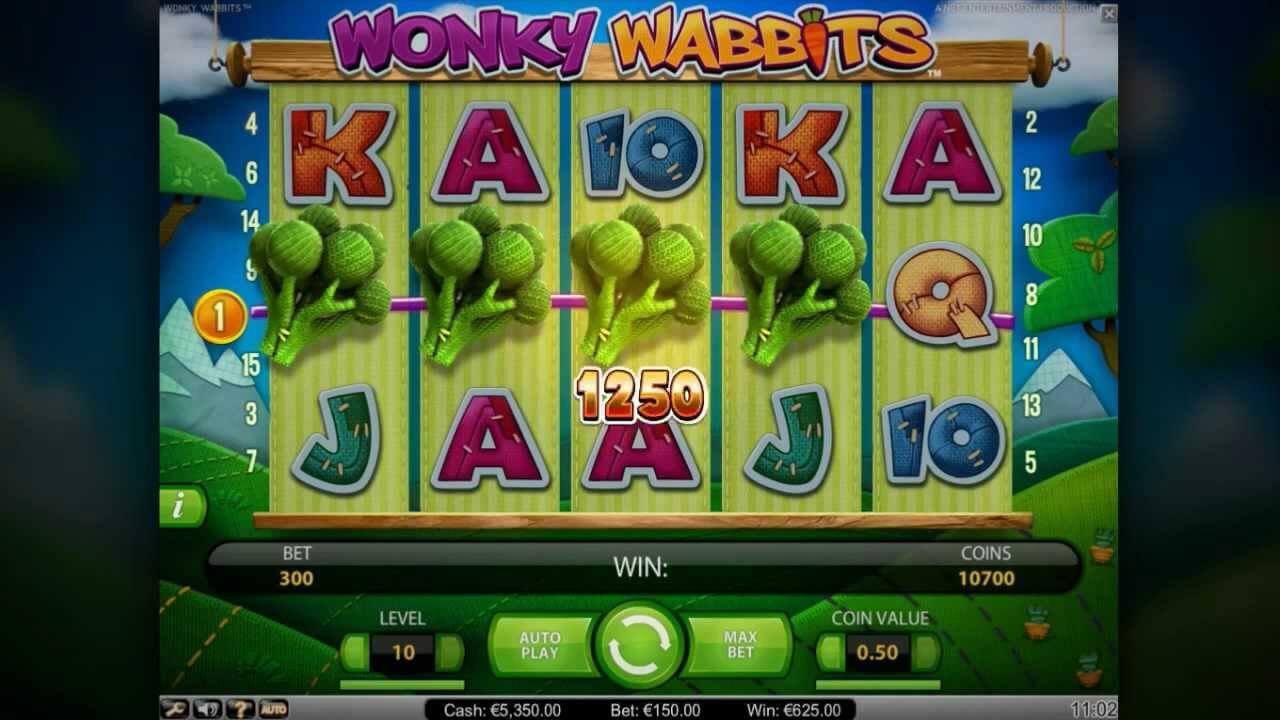 try more games