We require visitors to be 18 years or older to access demo games, please confirm that you are 18+
Alchemists Lab Introduction
Throughout history, men pursued knowledge, the key to immortality and even the transmutation of ordinary metals into gold. For many, gold is the ultimate metal, a noble item that deserves decades and centuries worth of research, studies and experimentation. These explorations and experimentation are all part of a tradition called alchemy, a philosophical tradition that have captured the imagination of many throughout history. Today, alchemy gets the attention once again, thanks to a video slot game called Alchemists Lab by
Playtech
. This Playtech video slot production re-imagines the busy and magical laboratory of the alchemist, complete with all the usual symbols one have come to associate with this traditional philosophy.
Alchemists Lab Details
The Alchemists Lab from Playtech is a highly colorful game, and pays tribute to the alchemists throughout history that pursued the elixir, gold and immortality. This game is designed with 3 reels, and one pay-line. Coin sizes vary, starting from 0.01 which can go up to 1.00 for every line. Based on the game's pay table, the game can offer a jackpot worth 10,000 credits. To ensure the fun and excitement of players, the Alchemists Lab also comes with the usual video slot features like scatters, and delivers a bonus feature as well. The game is creatively designed with its 3 reels. The left side of the screen displays the blue potion, where winnings are displayed. On the right is the green potion, where the total wager in the game is displayed. A 'Max Bet' feature is also shown, and should benefit experienced players.
Scatter Symbols
The book consulted by the alchemist is the game's scatter. The presence of these symbols on the reels will help activate the bonus feature of Alchemists Lab. While these symbols will not help create winning combinations with payouts, 3 scatters that will show on the reels of Alchemists Lab is a guarantee that the player will enjoy the bonus feature.
Bonus Feature
This Playtech production comes with a friendly gameplay, and completing the bonus feature also offers adventure and fun. Once the 3 scatters are shown on the reels, the game will shift to the bonus game where the players are given the chance to pick 3 potion bottles. In this feature, the player must create gold, and the more gold coins are created using the potions, the higher the prize reward. There will be 7 potions to choose from in the game, and players must select the right potions to make gold, and win the prizes. In short, this
video slot game from Playtech
gives players an opportunity to relive the life of an alchemist, and experience the quest to find the elusive gold.
Conclusion
One of the best things about Alchemists Lab is that it's easy to play, with uncomplicated rules and pay-table. There are no wilds and other complex winning combinations to memorize, just the scatters that can start the bonus round of the slot game. Design-wise, Alchemists Lab is also a certified eye-candy, thanks to two colored potions on both sides of the screen. Make sure to check out our
online casino bonuses
section to see what bonuses our partners offers when you sign up to play Alchemists Lab.
Top 10 Playtech Casinos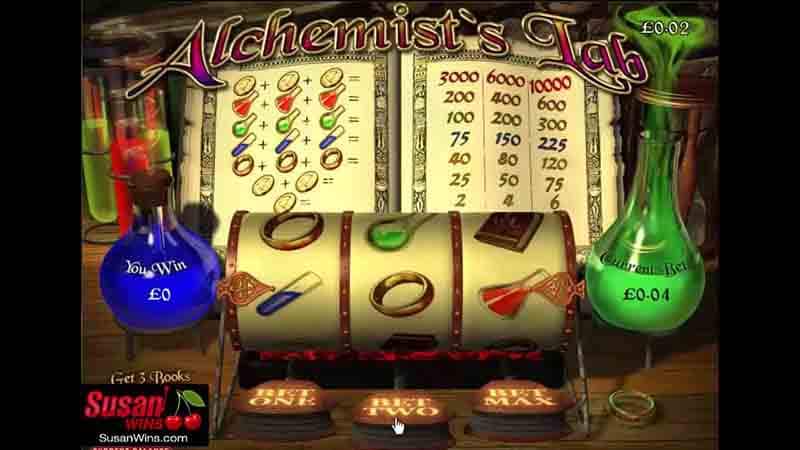 try more games