We require visitors to be 18 years or older to access demo games, please confirm that you are 18+
Diamond Dogs Introduction
What happened when dogs became the heroes of a game, and their quest was worth a few million? Well in Diamond Dogs offering from
NetEnt
, this is exactly what happens. Dogs become the barking ambassadors of investment and they are so expensive that their hosts dare not leave them unattended. The four-legged protagonists on this slots game visit beauty salons and live in the lap of ultimate luxury. They are the paparazzi's favorite and continuously pursued in the hope of one great and eye catching shot. Here is more on this special doggy trail and the big bright highlights.
The Special Features
The Diamond Dogs comprises of five reels and has a total of twenty-five paylines. Players can use a wide range of coin values from one to fifty cents and choose a bet level convenient for them.  The usual in-dispensable
elements
are all present in this game like:
Bonus
Scatter symbol
Wild symbol
Stop-game
But the main bonus is the most striking element of this slots game.
Bonus
Essentially this feature is triggered by a rare picture of a celebrity dog! It is such a rarity that it can't be bought for any money, and no doubts triggers a windfall for the player who lands it on the paylines. Players can run stakes as high as 100 coins per spin to maximize their gains. In this overall round, players need to choose from twelve famous dogs. They have to create a picture of the dog and can claim an immediate prize. The bonus round continue till there are footprints of dirty dog's paws as the picture.
Wild Symbol
This, no doubt, is the next most sought after feature in this game. It is denoted by the image of the dog with a diamond. Quite expectedly this symbol completes any winning combination excepting the Scatter Symbol, which is denoted by a glamorous dog. The Wild Symbol, however, is not able to trigger bonus rounds or Free spins as seen in many other
slot games
designed by NetEnt.
Scatter Symbol
As discussed earlier, this symbol is denoted by the glamorous dog, and when this symbol appears at the reels numerous times, you can get several prizes as listed out by the payment table. Free spins are normally initiated when three glamorous dogs land at the reels.
Free Spins
At the initial level, a player is gifted with ten Free spins and all payoffs at this level is tripled. With every bonus round of Free spins, the payoff levels keep expanding. They ultimately lead the player to photo shoot or the bonus rounds with 12 incontestable dogs on the competition platform.
Diamond Dogs Jackpots
Last but not the least, interesting of all is the Jackpot round. The maximum payout in this game is close to 10,000 coins.
Conclusion
On the whole, the Diamond Dogs is an extremely well executed and beautifully designed casino slots game. A thoroughly original idea and novel approach, it is adequately supported by some soul stirring music and appropriate barking sound inserts. Given the hefty winning potential, it surely makes you feel that chasing paws ain't all that bad a business proposition either. When at the end of it all you get to walk away with hefty prize who minds running after 12 dogs.
Top 10 NetEnt Casinos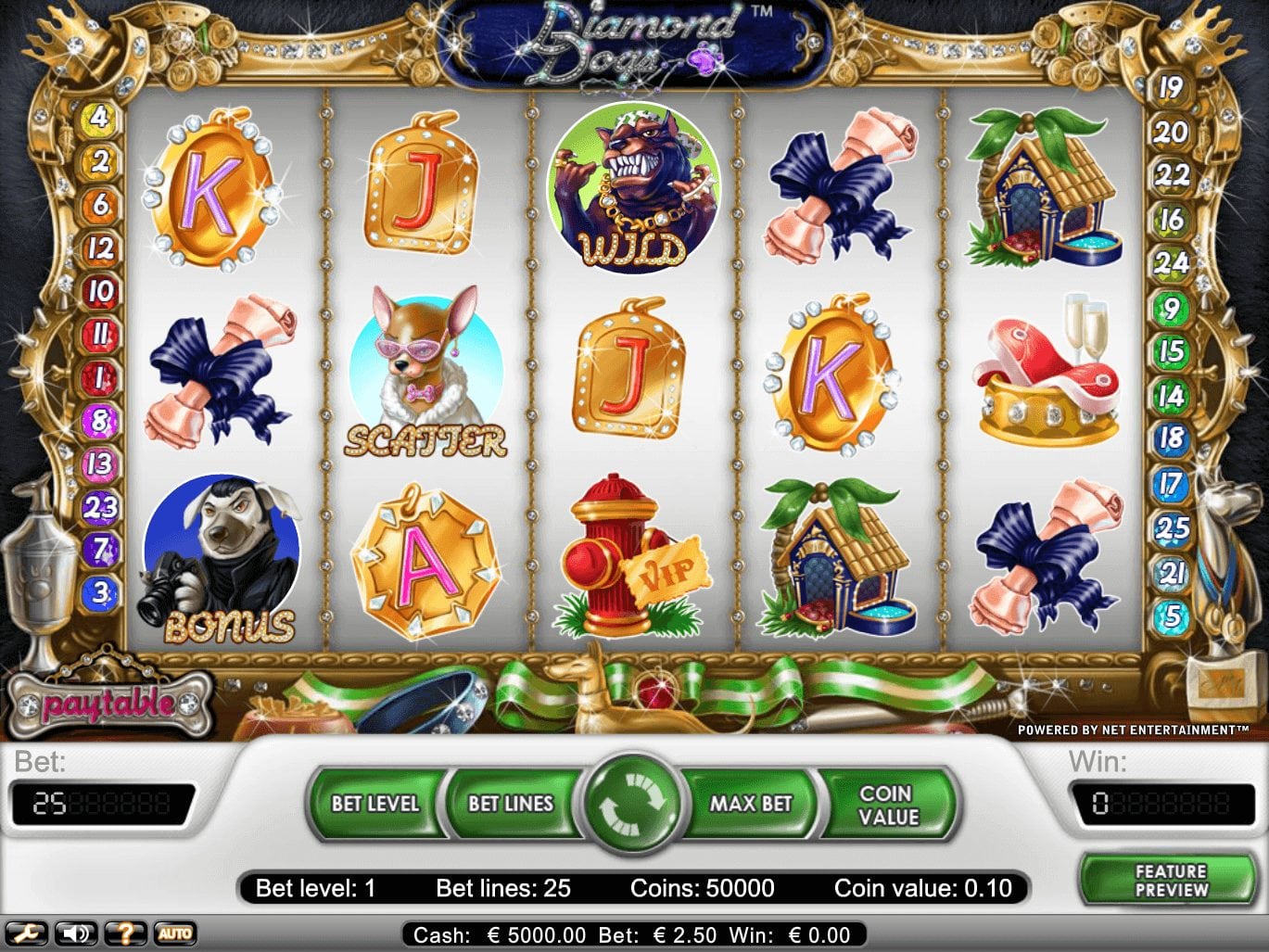 try more games