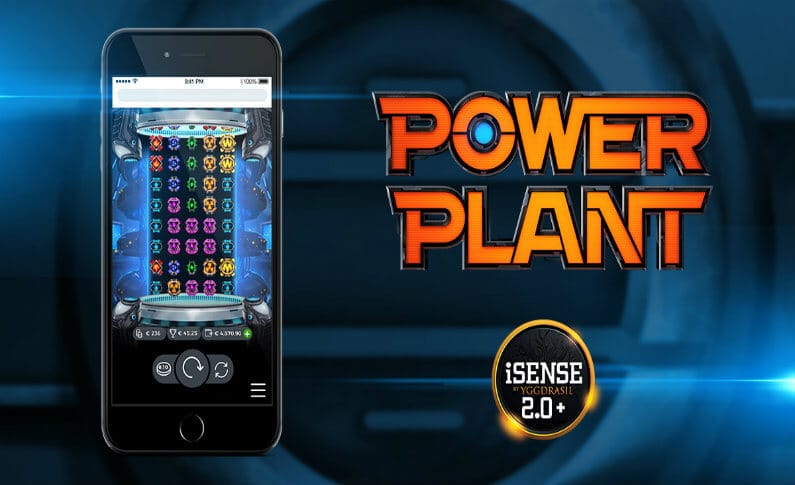 Yggdrasil Releases Power Plant Slots, Promises a Supercharged Gaming Experience
Known for its innovation in casino game design and production, Yggdrasil Gaming is stepping up on the pedal by releasing new titles anchored on its latest technologies. The latest addition to the growing portfolio of games is Power Plant, which runs on an improved user interface, iSENSE 2.0+. Designed with a futuristic theme, this new Yggdrasil slots will give players a chance to search for massive wins, in a highly futuristic environment. With the release of Power Plant to boost the Yggdrasil portfolio, the company solidifies its brand as an innovator in the industry. For 2 years now, Yggdrasil Gaming has been voted 'Gaming Supplier of the Year' at the 10th International Gaming Awards, and the release of this new game clearly pushes the Yggdrasil brand.
Top 5 Casinos with Yggdrasil Slots

Go Futuristic as you Explore the Winning Symbols and Features
Innovation is part of the company DNA of Yggdrasil Gaming, and this is proudly seen in its new slot game, Power Plant. For this new title, Yggdrasil offers a convincing slot game in portrait mode, the Power Plant. Offered using the latest iSENSE 2.0+ improved UI, the new slot game takes a peek at the demanding yet exciting industrial world where players hunt for prizes using 82 pay-lines. This new game comes with a 5 by 8 reel arrangement, which is a new feature from Yggdrasil, and optimized for portrait use. Released last April 24, Power Plant comes with a 96.1 percent Return to Player (RTP) percentage, and comes with a jackpot worth 32,800 coins.
It comes with two powerful and exciting features for all players, and these are announced even before the game begins. One, if you can land a full stack, the re-spin feature of the game will be activated. And two, players can win up to 32,800 coins in just a single spin!
Compared to other slot productions in the market, Power Plant is best rendered in portrait mode, allowing players a different spinning experience. Coin values start at 0.005, and goes up to 5.00, making €250.00 as the maximum bet that can be made on the game, using all the pay-lines. There's a max bet button available for players looking to bet the maximum amount immediately.
One interesting feature of the game is the re-spin feature, where 2 to 4 features may be activated, depending on the number of wild stacks. Players get to earn 3 features for 2 stacks and more than 3 stacks will offer 4 features. There are 5 re-spin features that can be earned like 1 symbol is used as the super-stack, an extra feature is added and 3 to 8 winning symbols are added to boost winnings. When it comes to matching symbols, 5 symbols with the radioactive logo pays out 200 credits, and 5 symbols with the flame logo pays out 150 credits/coins.
If you need the wording further expanded – we suggest that you read our post about slot features, reviewed and explained – find it here!
Power Plant Slots, Powered by iSENSE 2.0+
Just like other recent Yggdrasil productions, Power Plant is designed to offer the best entertainment possible. Aside from its unique portrait-style delivery of the games, this game offers great wins and the re-spin feature. More than the typical rewards that are given to players including the wins for matching symbols, this new Yggdrasil slot production now runs on the much improved UI, the iSENSE 2.0+. This is a new platform used for its games, and promises better graphics and entertainment value. The release of the new platform was made a few days before Power Plant was announced to the general public, and according to the executives of Yggdrasil, the slot game will be the first game that will run on this platform.
With the release of this new platform for slot games, players can expect a 'minimalist' platform that can work for desktop and mobile platforms. Although the approach in creating the UI is minimalist, players and enthusiasts can still count on a more modern feel when playing the games. If one takes a look from its UX perspective, the new iSENSE 2.0+ from Yggdrasil allows more freedom to players, including the capability to check the deposit screen of the casino or game using a single click, without having to leave the client. It is expected that once the iSENSE 2.0+ becomes full blast for games like Power Plant, players can enjoy Retina Display screen and the Force Touch. This means that Power Plant and all other future games that will run on the platform will feature crisp visuals and exciting sound effects. Yggdrasil Gaming also shared that the company will offer splash screens in the next few months which will improve the casino entertainment.
The introduction and release of Power Plant, backed by iSENSE 2.0+ is another manifestation of Yggdrasil's commitment to excellent slot play. With its new features, portrait-style presentation of games and the new UI, Power Plant is another explosive title for Yggdrasil.