We require visitors to be 18 years or older to access demo games, please confirm that you are 18+
Silent Run Introduction
Are in interested in playing
video slot games
? Silent Run may prove to be the only best game for you. Developed by
NetEnt
, the game features a submarine with a hypnotising soundtrack played at the background. If you are much fascinated by the underwater wars during World War II, you should definitely play this game. Silent Run is five columns, 3 rows game which offers a maximum of 25 bet lines to all the players. You can set your own bet levels as per your needs or requirements. The special features of Silent Run which offers different wild symbols enables you to win a huge sum if money without much efforts.
In-Game Multiplier
The game does offers in game multiplier to all those players who manage to trigger specific requirements for getting multiplier. You will have to shoot down the multiple targets which will appear randomly on the screen using your torpedoes. With each shot that you fire to take down the ship will offer multiplier as pre-assigned to it. x1 Multiplier for the first torpedo that you shoot x2 Multiplier for the second torpedo x3 Multiplier for the third one x5 Multiplier if you successfully fires the fourth torpedo and x10 Multiplier for the last one You will only get five torpedoes to shot down the enemy ship and gain as much coins as possible. This in turn will provide you with the respective multiplier.
Unfortunately Silent Run does not offer Free spins as the game is a video slot game. But it does offer quite attractive bonuses so as to cover up for the Free spins. The player will get to the bonus game only if they manage to get a wild symbol bonus which only appears on the third reel. Upon triggering the wild symbol you will get a pleasant benefit. So what exactly it is? When the symbol appears, a pulse will generate which will search for hidden torpedoes under a given radar. During such scanning process you are liable to get 2 to 5 torpedoes which you can later on use for attacking purposes.
Golden Wild Symbol
You will experience a vast numbers of symbols which are used in the Silent Run game but the wild ones will appear on any reel expect the 3rd reel. Specifically there are two wild substitute symbols which are Echo Bonus and Eco Wild. Echo Wild
-
 This symbol only appears on the 3rd reel and will offer huge benefits to the players. Echo Bonus
-
 This symbol also will appear on the third reel and as stated will provide a bonus round game to the players.
Conclusion
If you are fond of video
slot games
and at the same time loves nurturing the past wars with tactical weapons, Silent Run will no doubt prove to be the best game for you. Although the players will feel the lack of jackpots but the other vast range of bonuses offered in this game are appraisable. With a magnificent soundtrack being played at the back will definitely keep your interest in it for a long time.
Top 10 NetEnt Casinos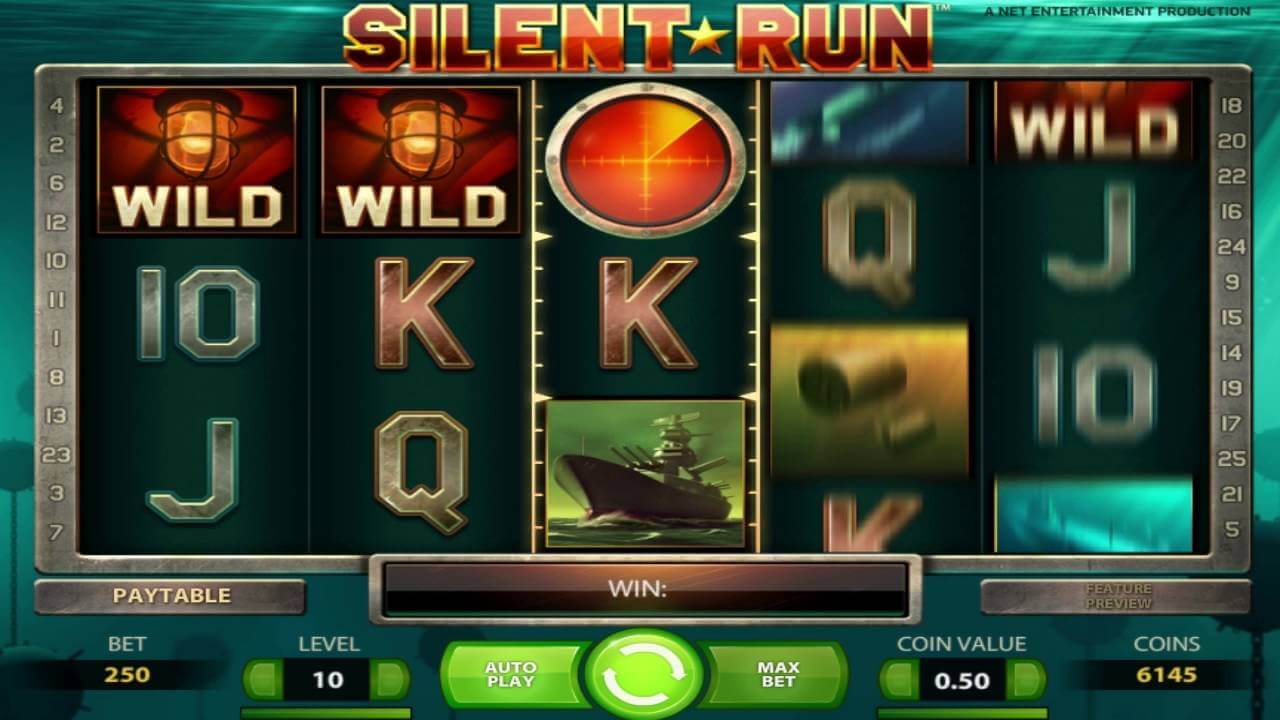 try more games