We require visitors to be 18 years or older to access demo games, please confirm that you are 18+
Mega Moolah Introduction
Do you love to play slot games? If yes then Mega Moolah is definitely the one for you. Designed by Microgaming, it is by far the best game developed so far which can be played by anyone. It does not matter if you are a beginner or an experienced player. The gaming platform provides it with user-friendly versions which anyone can understand easily.
It is a 5 reel, 25 playline slot game with a huge scope of winning cash prizes. A player can place a maximum bet of 5p and a minimum of 1p. Thus you can get a maximum wager of 125 coins per spin if you choose to bet 5p at once. The symbols used in the game signify the jungle environment. Symbols such as lions, monkeys, elephants, zebras and giraffes can be seen on the reels. Again there are also other high-value symbols representing a deck of cards such as jack, queen, king, ace etc. Each symbol has their particular meaning and getting such symbols may results in you getting richer.
In-Game Multiplier
The game does offer in game multiplier as its key features. The wild symbol acts as a multiplier in this game and getting such symbols in the game means you are going to take a whole load of cash back home. It works in a simple manner; the whole credit gets doubled in a single instance if the wild symbol forms a part of winning combination.     
Free spins are also offered here at Mega Moolah. The scatter symbol which is a monkey in this case plays a vital role. If you somehow manage to get three of the scatter symbols, you are liable to get Free spins as per the norms of the game. Again if you manage to get scatter symbol during your Free spins your credits get tripled. Thus all you need to do is go on playing the game and get as many bonus symbols as you can so as to increase your credit value.
You will also get bonus credits you manage to get any numbers of wild symbols anywhere on the screen. Two wild symbol means you are credited with 15 coins, three wild symbols means 125 coins, getting four symbols means 1,500 coins and five means 15,000 coins. Thus as you can see, the multiplier options are quite an attractive one. The players are rewarded with far more benefits than any other slots game you have ever witnessed.
Golden Wild Symbol
Lion here acts as a wild symbol in the game. As already mentioned, it has much wider benefits than that of any other symbols which can make you win some real cash in a very short period of time. All you need to do is spin the reel and get as many wild symbols as possible on the screen.
Key Features
Mega Moolah offers some interesting features such as:
Betting ratio; you can bet any amount as per your requirements and win a huge prize money

Free spins and multiplier options can prove to be of great benefit

Wild symbols possess some real credits

User-friendly interface

Easy payment options
Conclusion
Mega Moolah indeed is a cool game to play. If you consider yourself a true gambler and love to spin the wheel all the time in casinos, this game here is definitely the one for you. You can play it anytime or anywhere you want that too without going to any casinos. The symbols used in the game are enough to provide you with a complete forest experience.
The wide features which the game has to offer you are quite an attractive one, huge multiplier options, Free spins and great bonuses. All are enough to land you with a fascinating gambling experience. The chances of winning some real cash money in Mega Moolah are quite high. So don't miss this opportunity to make yourself richer every time you play this game.
Top 10 Microgaming Casinos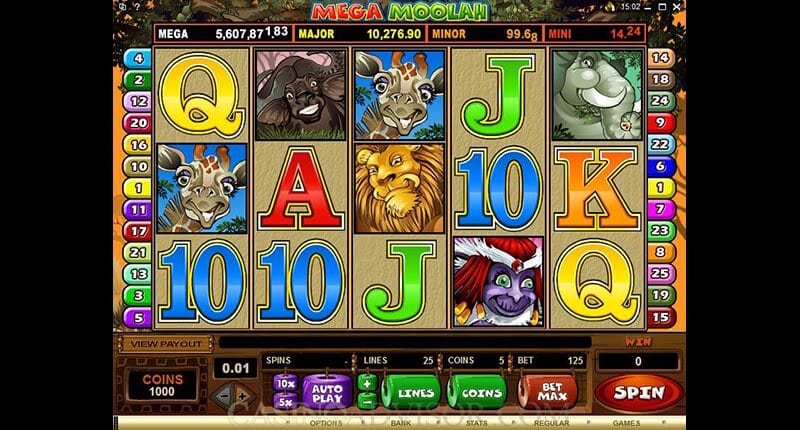 try more games