We require visitors to be 18 years or older to access demo games, please confirm that you are 18+
Jackpot 6000 Introduction
In a highly competitive slots and casino gaming market, game designers strive to provide regular and recreational casino players with high-end
slot games
, inspired by a variety of themes. Today, it is no longer surprising for software designers to take inspiration from different themes and even Hollywood movies and characters to deliver modern, hip and spectacular slot games that appeal to different senses. Jackpot 6000 is definitely one of those! But not all top-rated slot games show off a modern and futuristic feel, some slot games take a bolder route, and gets inspiration from the slot games of the past. Just take the case of Jackpot 6000,
NetEnt
's take on the Norwegian slot, Jackpot 2000. The game takes you back in time, in a casino, where a classic
slot machine
stands. Playing the game feels like playing a slot machine inside a casino, and the symbols are all traditional, and the 'machine' itself features its separate coin slot, buttons for 'Bet' and 'Spin', and its situated in a casino hallway.
Jackpot 6000 Slot Details
NetEnt designed this slot game as a fruit machine, and features 5 lines and 3 reels. To appeal to a modern set of players and those seeking top jackpots, the game offers a Super Meter game, doubling game and loaded with high-end 3-dimensional graphics. The game offers a theoretical payout rate of 98.8 percent, and compatible with all operating systems, from Windows to Mac.
Game Play
To start playing this slot game, the player should select first from 6 different wagering options, from 1 to 4, 6, 8 and 10. The choice of win lines will depend on the chosen level. Also, players can choose between 10 cents or 20 cents before playing. If you score the win in the slot's main game, you are given the chance to double the winnings in the bonus game called 'Heads or Tails'. This game can be played as long as you are winning, but you are given a chance to withdraw the winnings at any time, or choose to activate the Super Meter game.
Bonus Round- Heads or Tails and Super Meter Game
Players have the option to play all winnings, or just a part of the winnings in the 'Heads or Tails'. If only a fraction of the winnings will be played, you can click 'Transfer', which will automatically place 20 credits. If you want to skip this feature, simply choose collect to cash, and go back to the main menu or game. Another bonus round offer is called the Super Meter game, and this is activated if you play the maximum bet. Bets are higher, which translates to 20 coins on all 5 lines. If you get a win in Jackpot 6000's main game, you can activate the Super Meter by choosing 'Spin' button. The player's winnings will be added to the credit display. To play, just click 'Spin'. This can be played provided there are still coins to sustain each spin. Once all credits have been used, you will be transferred to the main game. This bonus feature can be ended by clicking 'Collect' or 'Transfer'.
Conclusion
Its doubling game, the Super Meter and the jokers that can give you a mystery winning amount make Jackpot 6000 a fun and profitable slot game to play. It also helps that this NetEnt game pays tribute to the classic fruit and slot machines of the past. Browse through our
online casino bonuses
section to find a bonus to get started, or simply play for free - today!
Top 10 NetEnt Casinos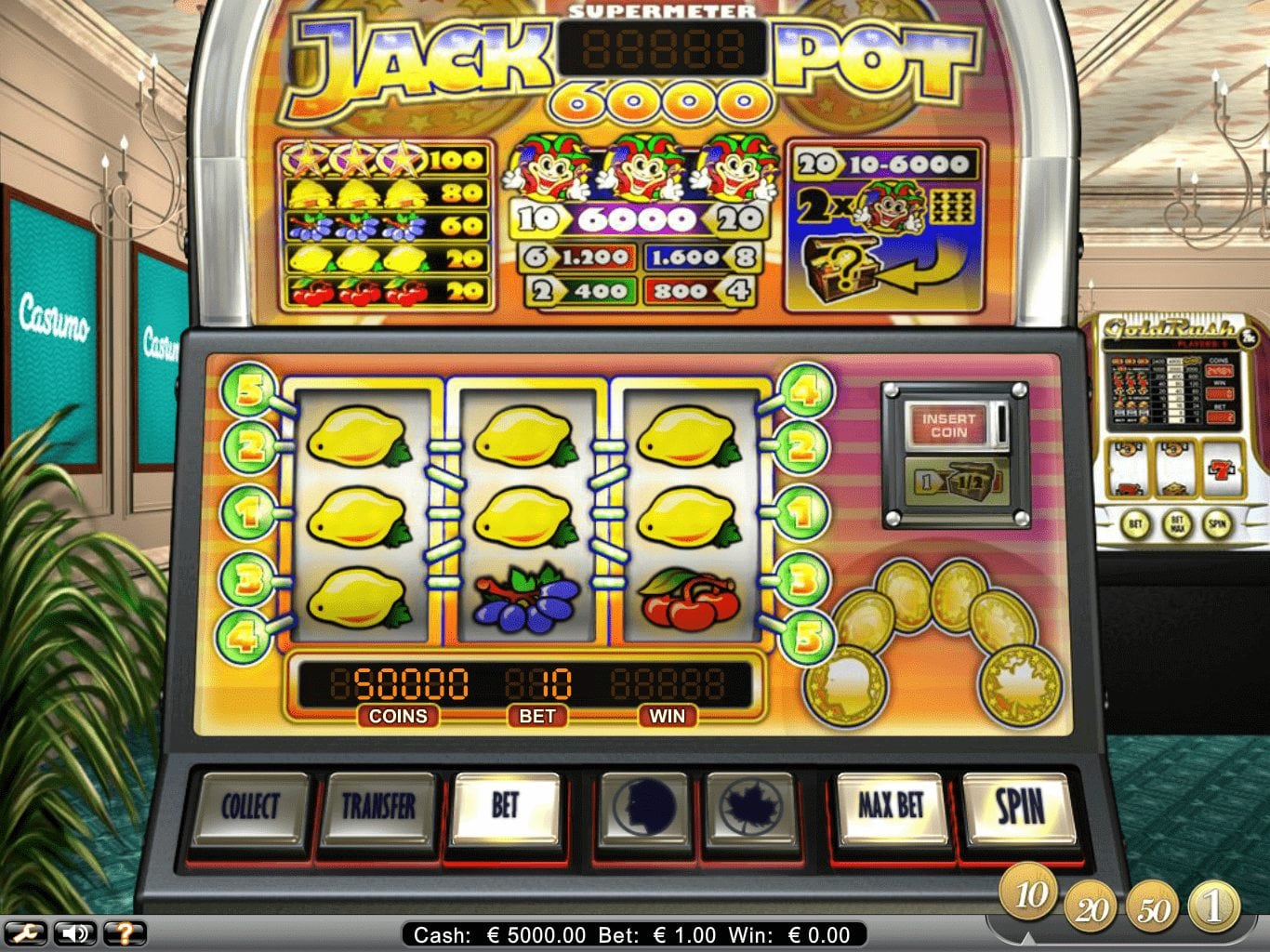 try more games