We require visitors to be 18 years or older to access demo games, please confirm that you are 18+
If you want an element of drama and excitement to your regular Deuces in a Casino, we suggest you try the Deuces Wild 1 Hand from
NetEnt
, it's offered by almost every
online casino
that offer
NetEnt games
. While this video poker game keeps the wildcard action of traditional deuces intact, it additionally gives you the power to spread your bets and helps you to keep the overall bankroll going for longer. It is fun, exciting and absolutely conventional at the same time. It is needless to mention that this video poker variant is amongst the most popular ones for gaming enthusiasts.
Top Features
The classic rules of the Deuces game are applied in this case. While the number of hands could vary from one, five, 10, 20 to even 100, the cardinal principles remain the same. You have to use the standard deck of fifty two cards, and jokers are not used on the hand. The cards are shuffled before each deal. The overall idea is to make a paid poker combination. Players can change from one to five cards free but it is allowed only once. So on the slots, the same action is repeated by using one to five coins. The value of the coin is decided as per the rules of the specific casino that you might be playing with.
Special Combinations
They range from Three of a Kind to Royal Flush. Most of these special combinations are formed via deuces that are paid. That's why you also have Five of a Kind, Royal Straight Flush and Four Deuces. If there are few hands that are played, one first needs to get cards on one box. New ones are not dealt with regular ones, but special decks.
Gambling
For victory in this round, one needs to guess the color or the suit of the cards that are face down. Once selected correctly, the color can double up the win and in case of the suit, it can amplify the victory by 4x. In fact for seasoned Deuces Wild players, an optimal strategy can shrink the casino's advantage to mere 3%.
Bonus
Unlike other slot games, the Deuces Wild 1 Hand has no specific bonus feature. Only in case of Royal Flush using 4,000 coins are drawn by the maximum bet.
Progressive Jackpot
There are no
progressive jackpots
in the Deuces Wild 1 Hand and players do not have the option to rake in huge sums in one go. Some of the other features that are unique to this slots game include that the:
Maximum coin size is 1
Minimum coin size is 0.02
Bet level is set in coins
High payoff
Comfortable control via buttons
Autoplay is not present
Conclusion
Overall you do not need to download the Deuces Wild 1 Hand. It can be conveniently launched in the Flash mode. Though not a complete version, several of the user settings are available in this mode. The significantly easy to operate interface and the relatively high payoff despite the absence of a progressive jackpot make it a big hit. The information center on the game's interface gives detailed instruction to first timers, and they would not face any hassle.
Top 10 NetEnt Casinos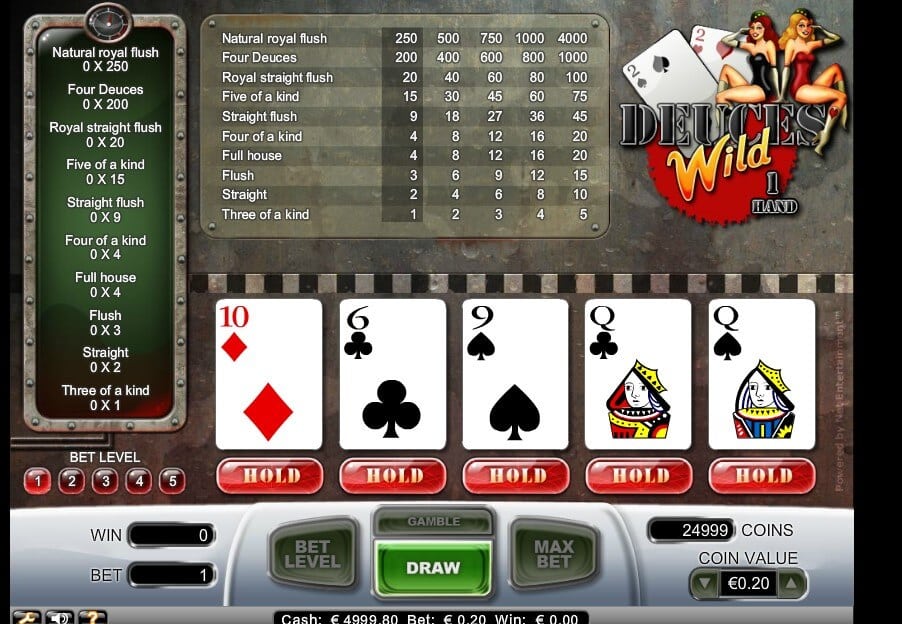 try more games