We require visitors to be 18 years or older to access demo games, please confirm that you are 18+
Creature From the Black Lagoon Introduction
When you hear the term, Creature From the Black Lagoon, it sure rings a bell in your mind. Yes if you are thinking of the 1954 movie classic, get set to play it on the
slots
with this sophisticated offering from
NetEnt
. This cult classic which was directed by Jack Arnold is about some scientists on an adventure to the Amazon in search of a prehistoric beast. It is needless to mention then that the slot version of it is as thrilling. Comprising of 5 reels, this game boasts of premium grade graphics in absolute vintage fashion. The captivating sound effect coupled with vivid imagery make it extremely appealing visually and hugely engaging. The game in true spirit reflects the trademark NetEnt expertise in terms of output, animations and performance.
The number of
Free spin
symbols can vary between 3, 4, or 5 and are visible anywhere on the screen. The bonus game gets triggered along with the appearance of the Free spins, and a player can receive as many as 20 Free spins if they are lucky. The bonus game comes into action soon after, and players have to aim to kill the alien creature. As the hit on the alien increase, special features keep unlocking and more Free spins and bonus rounds get underway. In this way, the final winning amount keeps getting enhanced after every move and with luck by your side you can even hope to win the maximum 750 coins.
Wild Symbols
The wild symbols in this game are very well spread out and are represented by multiple symbols as against just one. There is no fixed trigger demarcated for the regular wild symbol. It can almost appear anywhere randomly across the length and breadth of the reels. As the wild symbol appears the player immediately gets an extra Free spin right away. The wild symbol does not go away and it instead replaces other symbols for additional winning combinations.
Conclusion
There is no doubt this is one of the most entertaining and profitable combinations. The highest line win ever recorded in this slot game, the Creature From the Black Lagoon is 750 coins. This is also the maximum when a player gets five special symbols on a pay line. Though the 96% return theoretically brings up rather a good opportunity for gamers, perhaps the only negative about this game is the lack of a suitable mobile version for better reach and greater participation. In fact, there are no mobile versions of this game so far. Though there are no details about any alternative that might be in the pipeline, that's no major worry as the game offers the unique opportunity of winning as many as 20 Free spins with this game.
Top 10 NetEnt Casinos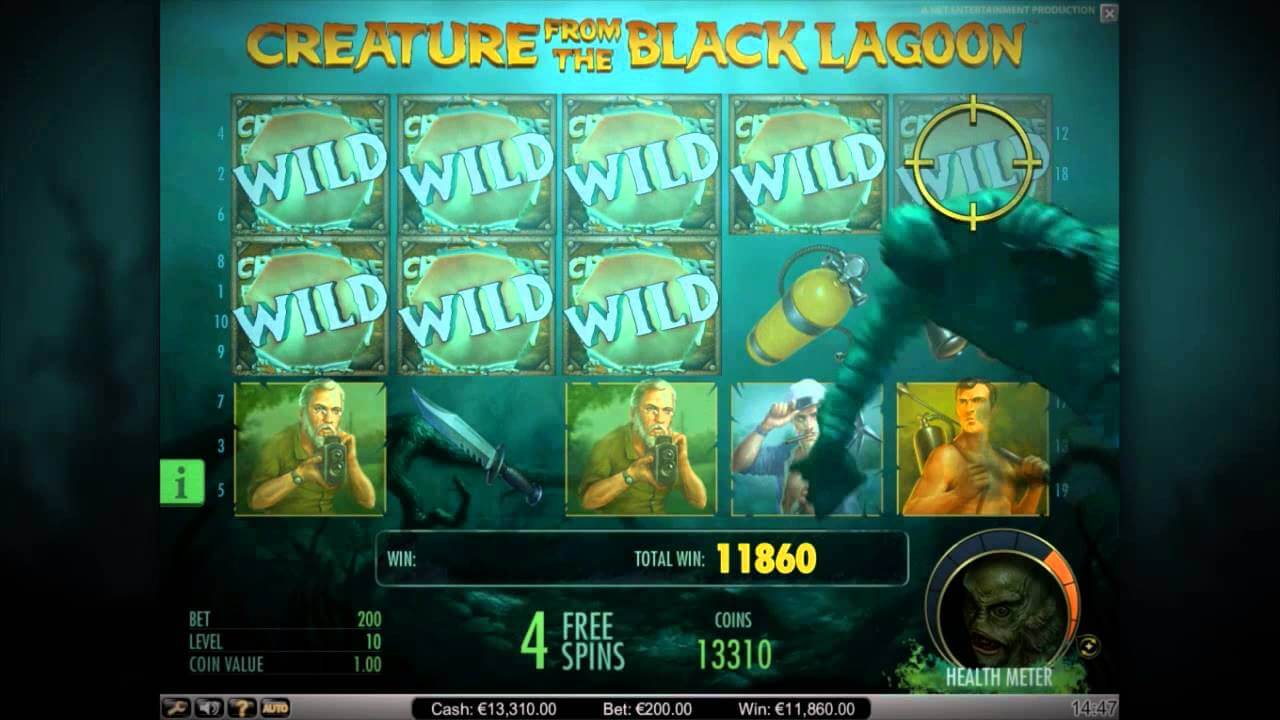 try more games