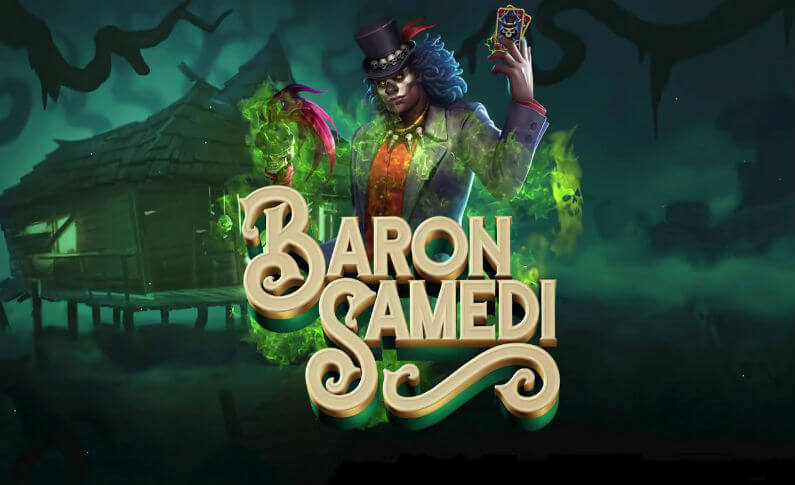 Yggdrasil's Baron Samedi is Finally Out
Yggdrasil is a mythical tree from the Norse cosmology; however, most of us probably heard of that word for the first time when learning about one of the best software development companies in the online gambling industry – Yggdrasil Gaming. The company was founded in 2013, which is a piece of information that shocks most gamblers. The reason being is that the vast majority of high-end companies from the industry, such as Microgaming and Playtech, were started in the 20th century (the mid-1990s). They successfully became relevant on the market due to multiple licences, dozens of unique and fun to play games, and world-class employees.
Fast forward five years, we have come to a point where millions of people from all around the world are impatiently waiting to see what Yggdrasil is going to release next. This time, it is a slot machine with the game titled 'Baron Samedi'. If that name rings a bell, we'll remind you that you might find it familiar because he is one of the loa spirits of Haitian Vodou. However, chances are you've heard about it from games, movies and comics, as writers and directors often used it when the Vodou is mentioned.
Love At First Sight
Designers working at Yggdrasil really deserve a raise after what they managed to pull off in this project. It is evident that the entire industry is rapidly moving forward, and just when we think that online slots are outdated, Yggdrasil implements edge-cutting graphics and 3D animations into Baron Samedi slot.
The background is static, as the reels are placed on a board standing on a table, but items and details stacked on the two shelves that are part of the reels are insane. The cigarette smoke flying across the screen, the 3D candle flame and a drink with animated ice in it go so well with everything else on the screen that you might forget that you are playing an online slot.
Betting Span & Options
The betting range is one of the key elements determining how many active daily users one machine is going to have once it's released. Yggdrasil absolutely nailed it with these limits:
The minimum bet per line is 0.004

The maximum bet is 5.00
The stake value can be expressed in either a fiat currency you're playing or coins. Please pay special attention to this, as betting 25 euros and betting 25 coins are two completely different values. In fact, 25 coins are equal to 0.25 euros, meaning that one coin is 100x less valuable than one euro.
Beginners might be surprised by the lower limit of 0.004, as the lowest they have seen up until now was the classic 0.01. Since there are 25 fixed paylines, Yggdrasil set the bet per line to be 60% lower so that low bettors can spend only 0.10 euros per spin, instead of forcing them to spend usual 0.25.
In the Options menu, not only can you turn on sound effects, but you can also include the ambience sound, which we definitely recommend, especially if you're using headphones. The speed at which the reels are spinning can be manipulated by using the slider to either set it to really slow or bump it up to almost an immediate stop.
This is where you are going to set all the values regarding the Autoplay feature, such as stop losses, winning stops and single win resets.
Free Spins, 36 Tarot Cards & Symbols
Yggdrasil would never release such a highly anticipated game without implementing brand new and uniquely designed symbols. They made 10 topic-related signs, 8 of which are regular symbols with no special rewards or hidden talents. The first four are Baron Samedi and his wife Maman Brigitte followed by their two voodoo dolls. The remaining four regulars are four gems. At least three of a kind adjacent on one of the paylines are needed to create a winning combination.
The Wild symbol simply acts as any regular one when needed, while the mystery symbols appear only during the Free spins feature and turn into a random regular symbol at the end of a spin.
Whenever 3, 4, or 5 scatters appear on the screen, you will get 7, 12, or 15 Free spins along with 50, 375, or 25,000 coins respectively. Before the Free spins are played, the dealer will give you three cards which are unpacked to reveal three out of the 36 possible magical effects. You can check all 36 possible cards by clicking your stack above the fifth reel. There are three different stacks, each containing 12 cards. By completing any of the three stacks, you will be rewarded with additional Free spins. Also, whenever one card is collected for 20, 30, 40, or 50, depending on the card's strength, Free spins are awarded.
After revealing the three cards, all the powers are cast on the reels, with each card having the effect described on it (turning reels wild, adding mystery symbols, applying multipliers, etc.). You can see what every individual card is capable of doing by visiting the paytable.
Should You Play Baron Samedi?
Absolutely! It is a game that came out only a few weeks ago, has the 97% RTP and awards up to 250,000 coins from a single spin! Besides that, it also looks amazing because Yggdrasil used the latest technologies and tools to make it look that way. However, don't let this discourage you if your device is a bit older and might not run fast enough, as the game is optimised in a way that offers the best experience possible, depending on the device's capabilities.
Top 5 Yggdrasil Casinos