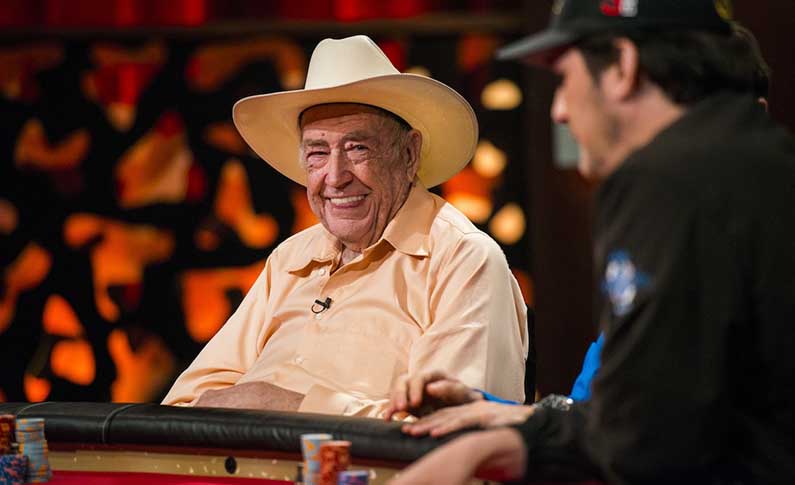 The Best Poker Players of All Time (and Their Strategies)
There are dozens of names that deserve to be mentioned when discussing the best poker players of all time. But there are only a select few professional poker players who have undeniably earned the title as one of the best at what they do.
Whether they spent hours practicing or playing with real money on casino whizz or picked up their own strategies from time spent at a real poker table, each of the poker players mentioned below has found a way to hone their skills and transform it into a successful career. Learn more about each poker professional then find out what strategies they are known for that have contributed to their success.
Doyle Brunson
Doyle Brunson played poker professionally for over 50 years. He won the World Series of Poker (WSOP) Main Event in 1976 and 1977 and was inducted into the Poker Hall of Fame. Brunson was the first poker player to earn $1 million exclusively from poker tournaments and won a total of ten WSOP bracelets in his career.
In January 2006, Bluff Magazine named Brunson "the most influential force in the world of poker." The 86-year-old has since retired, but his name will always be one mentioned in a conversation about the best poker players in history.
Stu Ungar
No conversation about great poker players is complete without at least a mention of Stu Ungar. Ungar was a New Yorker with a sharp mind and a natural instinct for reading a poker game. Ungar moved to Las Vegas in the late 1970s and became a regular in high-stakes poker games. In 1980, Ungar won the World Series of Poker (WSOP) Main Event, becoming the youngest person ever to do so.
He was given the nickname "The Kid" because of his young age and small frame. "The Kid" came back to win the WSOP Main Event for the second year in a row in 1981. Eventually, Ungar was the only player to win the WSOP and Superbowl of Poker Main Events three times each. It is estimated that Ungar won over $30 million from poker.
Justin Bonomo
Justin Bonomo is a dominating player in the professional poker scene and is still active today. He has earned over $48 million from live poker tournaments, making him the second highest-earning live tournament player in history. On February 19, 2005, Bronomo became the youngest player to be featured at a televised live table. He was 19 years old when he placed fourth in the EPT at the French Open.
Bonomo has had a successful start to his career at WSOP tournaments with 55 cashes, 19 final tables, three bracelets, and one circuit ring for $14,292554 in winnings, and he's still going.
Bryn Kenney
Bryn Kenney is the only professional poker player to surpass Justin Bonomo in total earnings. His live tournament earnings total more than $55 million and he has no plans of stopping.
Kenney won his first WSOP in 2014, then in 2016 Kenney beat the 2015 WSOP Main Event champion Joe McKeehen at the $100k Super High Roller event, winning over $1.6 million.
Daniel Negreanu
Daniel Negreanu is a Canadian professional poker player who currently resides in Las Vegas. He has won six WSOP bracelets and two World Poker Tour (WPT) championship titles. In 2014, he was named the best poker player of the decade by the Global Poker Index (GPI). As of 2019, Negreanu is the third biggest live tournament poker winner in history, having won a total of over $41,800,000.
In 2004 and 2013, Negreanu was named the WSOP Player of the Year. He is the only player in the history of WSOP to win the award more than once. He was also named WPT Player of the year for 2004-2005. He is the first player to make a final table and the first to win a bracelet at each of the three WSOP bracelet-awarding places (Las Vegas, Asia-Pacific, and Europe).
In 2014, Negreanu was inducted into the Poker Hall of Fame.
Strategies of the Best Poker Players in History
If you want to play poker like the best professionals to ever play the game, you should consider utilizing some of their strategies.
For Doyle Brunson, it was about being aggressive. He would bet and raise a lot to steal a lot of blinds and to give other players action so that he, in turn, gets action when he has a big hand.
Daniel Negreanu is a big fan of small ball poker. He believes your betting should be the minimum amount possible.
Justin Bonomo is a big fan of online poker and acknowledges the way it has shaped the poker world. He believes online poker has made it easier for players to gain experience and get involved like never before. He also credits online poker for both professional and amateur poker players being more aggressive, better skilled, and better educated. Thanks to the internet and online casinos, there are far more and better resources than there used to be.
There are several strategies that just about all the top poker players have in common.  First and foremost is proper bankroll management. If you play above your bankroll, you are practically guaranteed to go broke. It's also essential to play the right games to avoid setting yourself up for failure.
Professional poker players also agree on the importance of not playing too many hands. Amateurs have the wrong idea by thinking that the more hands they play, the more opportunities they will have to win. But it's much more about quality over quantity. It is commonly recommended, especially to poker players who are just starting, to play more conservatively. If you have the bankroll to support it, consider making the size of your bets bigger. It pays off in the end to make fewer bets that make a much more significant impact.