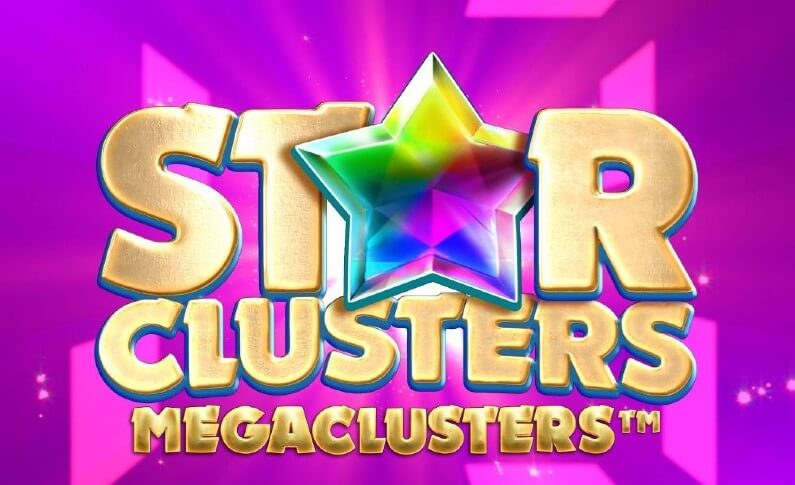 Star Clusters Megaclusters From Big Time Gaming
Big Time Gaming and its world-famous online games are no strangers to avid casino players. Most experienced players and even newcomers are familiar with the thrilling Megaways slot, and some might have also won some hefty prizes.
Big Time Gaming has once again intrigued the minds of its loyal players with a new slot on the market – Star Clusters Megaclusters. Many players are on the edge of their seats waiting to try out their luck on this new, one-of-a-kind slot game. 
Big Time Gaming hasn't disappointed until now, so we expect nothing less from the new arrival. With an eye-catching name such as Star Clusters Megaclusters, we ran right over to try out the game and thoroughly reviewed it. Fasten your seatbelts and join us!
Read more about Big Time Gaming in our big guide!
Game Overview
If you're a fan of classic, old-timers games, the chances are slim you're not going to like this one. The overall feeling of this slot game reminds us of well-established games with a cosmic look. The traditional jewels are there, you've got all of the colours you could think of that correlate perfectly with the light-speed effect. 
Overall, the design is nothing unusual or out of the box for Big Time Gaming.
Any audio game fanatic will agree that the soundtrack accompanying this unique game is more than extraordinary. Nik Robinson, the CEO of Big Time Gaming, likes to get his hands dirty when it comes to creating music for their games. 
He had lots to say about the music used on Megaclusters, including 'I used a Moog on Star Clusters, which stands to reason, as any knob you twist can take you into an entirely new spectrum of sound, again that too had to be tamed in its complexity. I'm really happy with how it turned out; the music, in this case, is really key to the flow of the game.' 
We'll add to make sure you have a great surround system or headphones to make the experience even better.
Star Clusters Megaclusters Symbols and Paytable
Once you start the game, a vintage device with a 4×4 grid appears. You won't need to pay attention to the paylines, as there are none. The slot is merely a cluster pay slot where players will win if five matching symbols connect (either horizontally or vertically).
You won't be disappointed with the colour spectrum when you look at the paytable – aside from the primary colours, you can also find orange, green, purple, and aqua. With more than 25 symbols involved in a cluster, you can expect the values to range anywhere from 10x to 50x. 
Star Clusters Megaclusters wouldn't be so popular if there weren't wild symbols – one regular wild symbol and a Gold Wild symbol and both of them can replace a regular symbol. However, when the Gold Wild is part of a cluster, a multiplier applies, meaning it starts at 1x and increases by one with every Gold Wild in a cluster (limit-free). When Free spins are triggered, the multiplier will stop resetting. Until then, multipliers reset with every new spin.
Big Time Gaming has tried to make Star Clusters Megaclusters a volatile game but failed to do so since there are many other games in their portfolio that present as more volatile. However, players can bet anywhere from 20 pence to £20 per spin, which can prove to be a nice change for players that got used to more strict online games.
The RTP of 96.54% is quite typical for online slot games, and something players can support and will come back to. Check out this guide to learn what RTP is all about.
All in all, the overview of the game sounds promising, so there are no reasons why players would skip this game once online. 
Game Features
What makes Star Clusters Megaclusters genius are the features that appear once you win something. Each symbol forming a winning combination is split into four smaller symbols which then create even more Megaclusters. The whole graphics section behind this genius move has worked extremely hard to make this happen. If you win again with the smaller symbols, you'll see them being removed so the new ones can fall in. The new symbols keep falling in until there are no more winning combinations.
What does this mean for you? Ultimately, the base of the game has 16 tiles, on the previously mentioned 4×4 grid, meaning that each of these tiles can break into four smaller tiles when a win occurs which leads to a total number of 64 tiles in Megaclusters.
Free Spins
A game of such calibre wouldn't be possible without the introduction of Free spins. The spins are triggered in the base game with five successive reactions. The player is then awarded two Free spins and an additional spin for every reaction after the fifth.
You'll play the Free spins on an 8×8 grid – an extended version of the initial format of the game. However, nothing changes once a winning combination occurs – you will still witness the forming of the smaller tiles and expansion to the maximum number of 256 Megaclusters. In all honesty, not many games can introduce a playfield of that size.
The Gold Wild multiplier from the base game will switch from triggering spins to Free spins.
On a 16×16 field, the Gold Wilds will act the same as they do on an 8×8 field, meaning once it reaches the multiplier of 10x, you will be awarded two additional Free spins. There are no limits for this feature, so you can earn much more than two spins.
The whole package surrounding the Star Clusters Megaclusters feature has got us wanting more. However, that's about it when it comes to the Free spins, symbols, and the basic overview of the game. 
Final Thoughts
Big Time Gaming has once again made a mark in the online gaming industry. There are few things that BTG cannot handle. Moreover, this provider has a unique outlook on the world of games, leaving its mark on each one. You cannot expect big flashy games to come from Big Time Gaming, so, hopefully, you did not expect anything similar.
The classic design and the first-class music will leave any player coming back for more spins. If you're interested in modern games with complicated manoeuvres, you might want to skip this game. 
What reels you in is the sight of dozens of small symbols breaking into smaller ones and the plethora of sparkling colours. Aside from this eye-catching design, the graphics are pretty straightforward. 
You can expect to win up to 23,000 times your initial stake with a bit of help and if you play your Free spins right. Star Clusters Megaclusters is one of those games where you can maximize your winnings without even realizing it since you'll be busy keeping your eyes on the 16×16 field.
Hopefully, the game will endure the same success as some of its previous counterparts, as it presents a simple game with a twist – something that any player will appreciate.
Top 10 Big Time Gaming Casinos