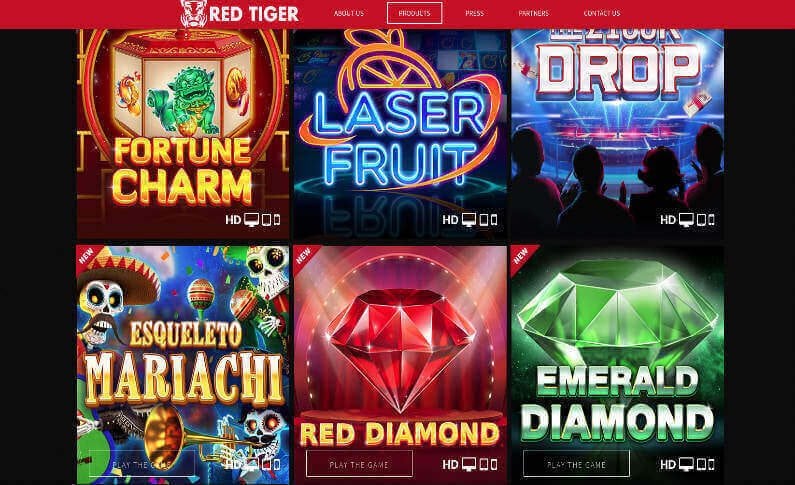 Red Tiger Gaming: Top 5 Newest Releases From an Innovative Developer
Red Tiger isn't one of the first names that comes to mind when you think about the best online gambling software developers, which is a great shame. This company has existed since 2014 and during this time it has released over 50 titles. Each of those table and slot games is worthy of note as Red Tiger Gaming's products are always unique and stunning. This innovative developer takes regular games and turns them into something original and magical at the same time. Their work on graphics is outstanding. You can make sure of it yourself by looking at their newest releases, such as Red and Emerald Diamond, Red Hot, and the delightful Esqueleto Mariachi slot.
Red Tiger: 5 Newest Releases in 2018
Esqueleto Mariachi
Esqueleto Mariachi is one of the most fun online slots you'll be able to find today. This 5-reel 40-payline slot features traditional gameplay, but that's where tradition ends. The game is designed to honor the Day of the Dead celebrated in Mexico, which means its graphics are vividly beautiful with a bit of a morbid tint coming from the skeletons. However, this theme is so visually appealing that words 'morbid' and 'depressed' won't come to you while playing. In fact, 'awesome' and 'beautiful' are more like it.
The game's biggest win comes when you get all three of the mariachi on the reel. This will open an opportunity to get Free spins (25) along with 17 Blasts, 4 Nudges, and 9 Wilds. With the max coin size 500 and RTP of 96% your chances with this game are good.
Red Diamond
Red Diamond is your game if you are looking for a classic 3-reel slot designed as a vintage slot machine. This might sound boring to some, but you should know that no release from Red Tiger Gaming is ever average. This game is the pinnacle of classic slots. The graphics, math of the game, and bonus features are as perfect as the current level of technology allows.
The gameplay is simple and there's only one payline, as it should be in a classic slot. The game's RTP is 96.19%.
Emerald Diamond
Not satisfied with one perfect classic slot, Red Tiger Games released an improved version only a month later (March 2018). Emerald Diamond is much like Red Diamond and yet completely different. It's also a classic 3-reel slot with one payline. However, its bonus features are most numerous and versatile of all games of this type.
The graphics go with the classic fruit theme with the backgrounds in varying shades of green. You'll need to play the game yourself to enjoy the discovery of all bonus features. The RTP ios 96.08%.
Red Hot
Red Hot Slot is a Chinese-themed game from Red Tiger Gaming that has some of the 'hottest' graphics today. The theme is heavy on reds and russets as well as chili peppers and examples of elegant Chinese calligraphy.
Aside from the unusual but stunning visuals, the game is a traditional 5-reel slot with 20 paylines. It has a high level of volatility and 95.31% RTP.
Laser Fruit
The latest of Red Tiger Gaming releases, Laser Fruit is a beautiful online slot with a varied gameplay and multiple opportunities to win. The futuristic design of neon tubes makes the game highly appealing visually. However, the main attraction of the slot is the many ways to win that it offers.
The paylines on the slot can expand from 5 to 10 and you can trigger multiple respins of generous bonuses. The volatility is high, but so is the level of fun you get from playing this game. You have a chance of winning 10,000x your bet, which is one of the highest possible wins in the games of this type. The slot's RTP is 96.02%.
Top 5 Red Tiger Casinos

Red Tiger Gaming: The Best Collection Is Expanding
Red Tiger Gaming is a steadily growing developer that shows off its constant evolution with every new release. The company's most popular titles Crazy Genie, Cinderella's Ball, Mystery Reels, and Wild Nords hold up extremely well compared to the releases from the industry giants. Their products do not look weak when compared in quality to the games from NetEnt and Microgaming.
Red Tiger Gaming thrives on innovation and development of charming graphics that will leave no heart untouched. Try these games if you are looking for something that will offer some excitement within the limitations of a traditional game design.
You should also look up Red Tiger games if you want to enjoy truly beautiful slots with a memorable visual style. You have no doubt seen dozens of games inspired by Disney cartoons, mythology, and classic casino themes. However, Red Tiger Gaming is able to put an original spin on each. The work these developers put into the details is second to none, so every element of the game is sure to fit the overall theme and look stunning.
And hey, still having trouble to understand the meaning of paylines, reels, scatters, wilds, symbols and other weird terms? Stay calm – we got you covered! Just head over to HitCasinoBonus Navigator – Your glossary to master online terms & abbreviations.