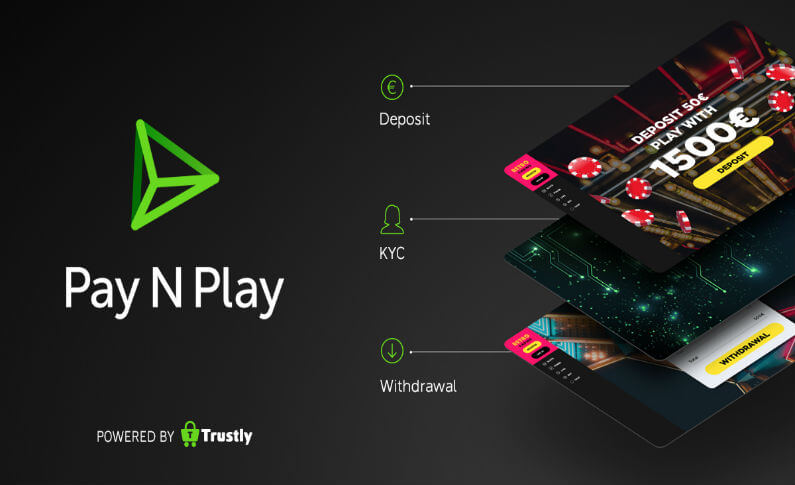 Pay N Play from Trustly
Founded in 1998, Trustly has managed to become the preferred online payment platform of individuals from more than 29 European countries. Known for its use of advanced security protocols, this payment platform is preferred by many particularly in moving large sums of money in a secure manner. Now, the team behind Trustly is offering an innovative payment facility, this time geared towards gamers and casino enthusiasts looking for a different way to play. Pay N Play is designed to promote a memorable gaming experience where players can access the games with just one quick deposit. In short, Pay N Play is designed to simplify the payment and gaming experience where you play without delay. Find a top trustly casino and start playing, today!
How It Works for Players Like You
In this new payment platform, players can count on three important and enhanced features that can simplify the experience: deposit, KYC, and withdrawal. Players can instantly play by making a deposit from their preferred online bank. Trustly then simplifies the 'Know your Customer' procedure by sending the important customer data to the operator who then compiles the customer profile in the background. Finally, the withdrawal process is simplified. Even if you leave the website, you can always return to request an instant withdrawal. Here's a step-by-step process on how this new payment facility works for you:
Step 1: Click 'Play Now' in your preferred online casino or gaming platform.
Step 2: Deposit funds by selecting your preferred bank.
Step 3: Complete this transaction by verifying the information required by your bank.
Step 4: You will be notified that the deposit has been completed and you can now play.
Step 5: To withdraw, simply click 'Withdrawal'.
Step 6: Supply the amount that you want to withdraw.
Step 7: Once completed, the funds will be sent back to the same bank account where you have completed the deposit.
For the player, this new payment arrangement from Trustly takes out the stress and work that usually comes in depositing and withdrawing funds. With just a single click, you can deposit or withdraw funds.
Read more about the most important online casino payment solutions here!
Here's How Operators Can Take Advantage of this New Trustly Platform
Gamers and casino players are now looking for a seamless experience, from depositing to withdrawing funds. And this is exactly what Pay N Play from Trustly accomplishes and this is now being run by top gaming companies and online casinos. As of the 2019, Pay N Play boasts +82% average monthly deposit volumes per player. This is based on a comparison between the Pure Pay N Play brands against traditional gaming operators. It also boasts a 128% ratio of deposits to withdrawals, based on the average of 3 merchants from April to September 2018. This means that operators should not worry about reduced volumes even though the platform makes it easier to withdraw funds. Players are even expected to deposit and play more because of the convenience and security that comes with the platform.
Finally, operators who used this new tool from Trustly experienced +124% in average monthly player growth for the first 7 months of use. In short, Pay N Play is a cost-effective payment facility that can work for gaming and casino operators on many levels. It can help promote a convenient way to deposit and pay, helping customers and the facility boosts the services and the brand of the operator.
As of the last update, Trustly offers two Pay N Play models – the Pure and Hybrid models. The Pure model is recommended for operators who are new in the business or want to rebrand an existing model. Under the Pure model, Trustly will serve as the only registration and payment method. The Hybrid model, on the other hand, should work for established operators who simply want to boost their existing brands. For example, this facility can work with an operator that runs a number of online casino brands.
Whatever model is selected, operators can count on a seamless and highly secure way to process payments. And for the players, this means a convenient way to pay and play.
Top 10 Trustly Casinos