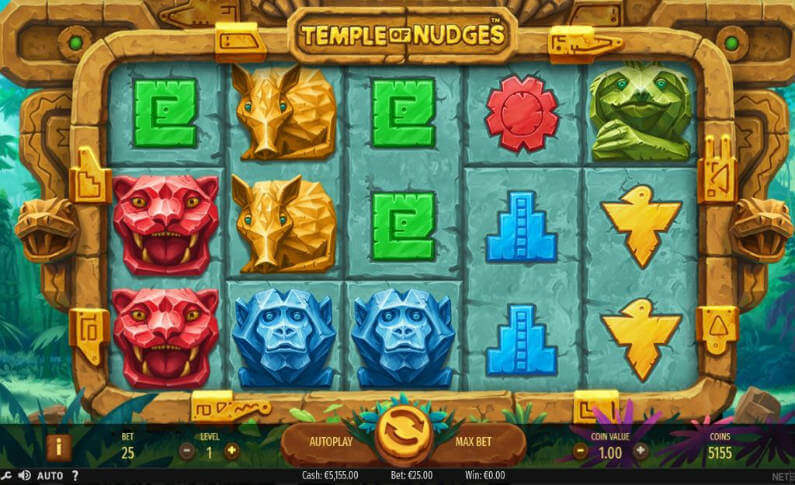 New Titles Coming from NetEnt and Quickspin
This year started incredibly well for gamblers all over the world. First, we witnessed some of the largest jackpot payouts in history. Second, but also the most important fact, is that new high-quality games are being released on a regular basis. In the midst of this month of 2019, NetEnt and Quickspin decided to surprise everyone with two amazing releases:
Temple of Nudges by NetEnt
The Grand by Quickspin
We will talk about both games today, but one thing we won't do is compare the two. You'll see in just a bit why that's almost an impossible task. Although both releases are slot machines, that's almost the only thing they have in common.
Temple of Nudges
NetEnt didn't do anything crazy with their most recent release and decided to go with a standard 5 by 3 layout. The design is pretty cool and although it reminds everyone of the old-school slots with pixelated graphics, it is actually extremely well-made.
Just like any other slot machine, Temple of Nudges has paylines, but they do come in a different form. There are 243 different paylines on the reels, but one interesting thing is that the Win All Ways feature comes along with them.
As a gambler, you're probably wondering what the RTP is. The theoretical Return To Player for Temple of Nudges is 96.03%. The general rule nowadays is that everything above the 96% mark is acceptable and worth playing. On the other hand, that does not mean that games with a lower RTP do not deserve a chance; it's just that there are so many slot machines out there that you can allow yourself to choose what's best for you as an individual online gambler.
Symbols and Features
There are 8 regular symbols in the game — blue temple, green snake, yellow bird, red star, blue monkey, green sloth, yellow antbear, and red tiger. We have listed them in ascending order (the blue temple is worth the least). You'll be quite surprised to see that there are no wild symbols available in this game, as that is something slot machines rarely lack.
On the other hand, NetEnt decided to bring back the nudge feature. That's something gamblers didn't get the chance to see for a long time. It is activated after each winning combination. After all the prizes have been collected and awarded, all the reels move one more time downward, revealing a new row of symbols. In case of any winning combinations after the nudge, all the prizes are awarded before another nudge session starts. The feature repeats itself until there are no new winning combinations on the screen.
The respin feature differs from the standard one where all the reels spin once again. The symbol that brought you a winning combination in the current round will become locked along with all other signs of that kind on the board, regardless of whether they were included in the winning combo or not. All other fields will respin once again. The feature is activated only when the respin symbol lands in a winning round.
Do you need to understand the meaning of paylines, reels, scatters, wilds, symbols and other weird terms? Stay calm – we got you covered! Just head over to HitCasinoBonus Navigator – Your glossary to master online terms & abbreviations.
The Grand
Here's why we can't compare the two machines — The Grand comes with 6 reels and 214 paylines. That's quite a specific structure which we do not have the chance to see that often as the 243 version. To make things even more interesting, Quickspin made all the reels combine with a different number of rows — the first two have 3 rows, the second two 4, and the last two have 5 rows. In total, there are 24 symbol fields on the screen.
The betting span is a bit smaller than it is for NetEnt's game — the minimum players need to spend in order to spin once is €0.20, while the maximum is €100.00. For Temple of Nudges, the maximum is €240.00.
Symbols and Features
Surprisingly, the game has only six regular symbols — diamonds, clubs, spades, hearts, purple and green diamonds. Again, we've listed them from the least valuable one to the most valuable one. Six green diamonds award 8x of the total bet, while three diamonds award only 30% of the total bet.
The one thing we can always compare between two slot machines is the RTP. This is where Quickspin beats NetEnt — the RTP for The Grand is 96.58%. Again, the RTP varies a lot depending on the structure and the way the game is supposed to be played.
When it comes to bonus symbols and features, there is a lot to talk about. However, we will only cover the basics, as it is up to you to load the game and experience everything yourself for free.
The wild symbol is present and substitutes for all six regular signs. Win 6, 9, 12, or 15 Free spins by landing 3, 4, 5, or 6 Free spin symbols, respectively. To enjoy the GRANDomizer bonus feature, you'll need to land three bonus symbols in the same round. That's going to be tougher than you'd expect since they can only land on reels 3, 4, and 5.
As if that wasn't enough, Quickspin decided to add a couple of random features. When we say "random", we mean that these features are activated randomly throughout gameplay. There are three bonus features of this kind:
Sync — Synchronises up to three pairs of columns which are of the same height

Wilds — Drops anywhere between four and eight random wilds on the reels

Nudge — Nudges one, two, or three reels once, either up or down
The GRANDomizer bonus feature can unlock one of these three features. Besides that, you can win 1, 2, or 3 bonus spins alongside any of these three features.
Keep in mind that, just like Temple of Nudges, you can play The Grand for free. Once you decide to spend money on any of these two games, make sure to take a look at the Bonuses section of your casino. There is always an offer waiting for you, whether you're a brand new customer or a VIP member.
Top 5 NetEnt Casinos