We require visitors to be 18 years or older to access demo games, please confirm that you are 18+
Sweet Party Introduction
Playtech never fails to impress its fans. It always comes with something or the other that mesmerizes all, irrespective of their ages. A sweet slot game, filled with chimes and jingles, Sweet Party is definitely a star in the gaming world. If you are a big fan of glitters and colors along with muffins and jellybeans hanging around, this is the best business for you. This game, which is very similar to the famous Candy Crush, is for all those who are looking for some fun along with some quality leisure activity. The theme is entirely retro and the graphics are just perfect for setting up the mood.
The game is very well executed with bonbon symbols and jelly sweets classics.  The candy symbols are the ones that make the game all the more pretty and pleasing to the eyes. This incredibly charming game is loaded with specs and features that make it irresistible to people of all ages.
Game Symbols
Just as the name suggests, the Sweet Party slot game is inspired by the candy world and the symbols are sugary jellies and bonbons. The 5x5 grid is loaded with sweet symbols that you have to match in order to score. The more symbols you hit, the more you score. You have to match similar candies that are adjacent either vertically or horizontally. There are no provisions for diagonal matching.
In-Game Multipliers
You need to put forward a bet in order to increase your chances of hitting the jackpot. If you manage to match eight or more red and white striped lollipops, your chances of hitting the jackpot increase. This again depends on the bet you've put. For instance, if the bet is $1, the jackpot you hit would be 10% and if your bet accounts to $10, the jackpot would be 100%.
The game offers no bonus features. There are no Free spins available in this game. However, the jackpot feature is enough to make you roll your eyes in thrill. The peppermint candies lead you to the progressive jackpot. 16 peppermints means 100% of the jackpot.
Golden Wild Symbol
Sweet Party does not have any Golden Wild Symbol.
Key Features
Slot game with retro theme

5x5 matrix display

Minimum betting requirement per spin: $1

Maximum betting requirement per spin: $10
Conclusion
Playtech always comes up with something new and innovative and Sweet Party is a perfect example of that. This sweet brother of the very famous Candy Crush is a mouth watering game that is too sweet to resist. The symbols, graphics and the music are way too adorable and the amazing features are very promising. Although there is nothing much apart from spinning the reel, but the candy symbols are very difficult to resist. The player gets to win the jackpot and huge payoffs, which makes this game all the more engaging and addictive. The player gets plenty of options to score huge.
Top 10 Playtech Casinos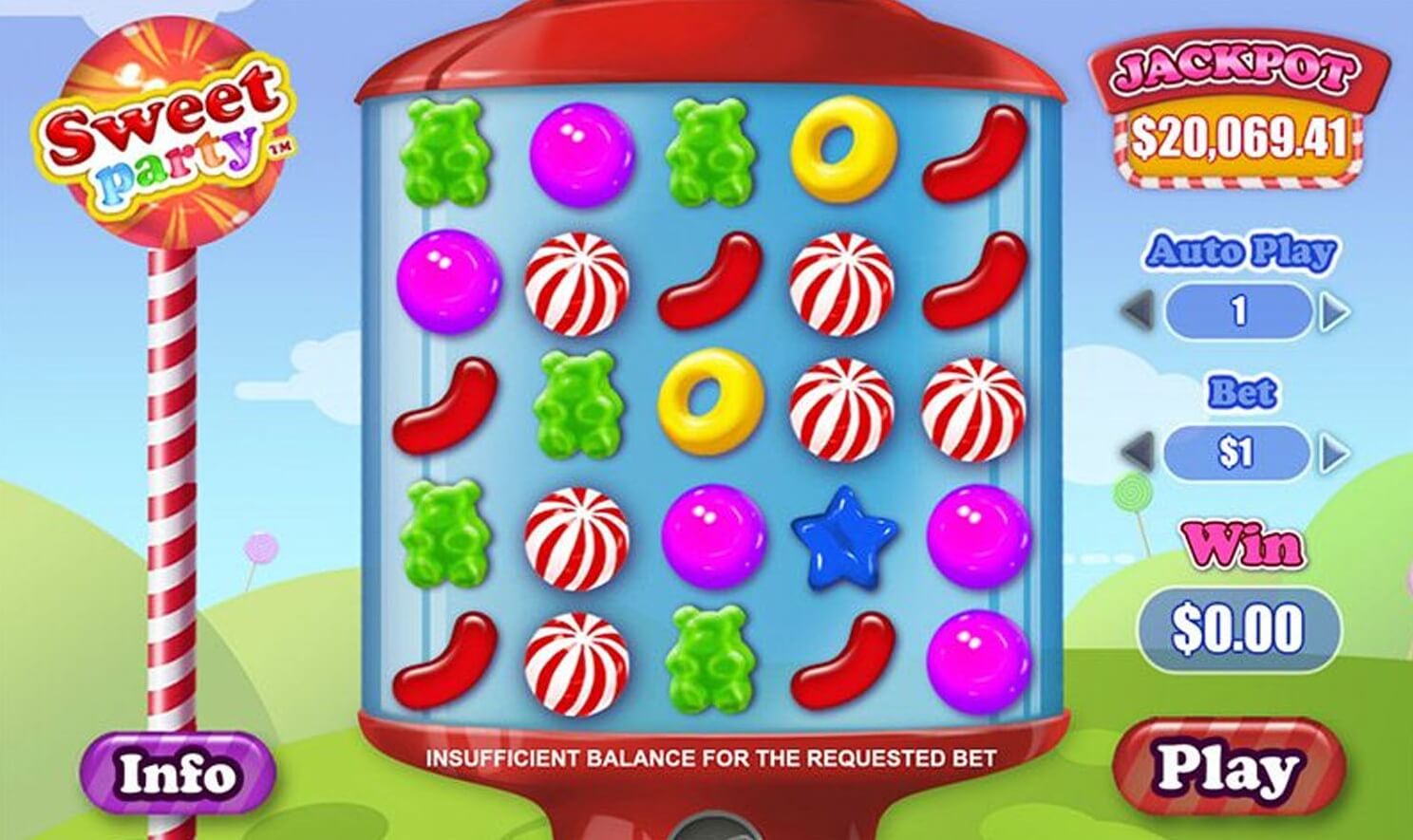 try more games