We require visitors to be 18 years or older to access demo games, please confirm that you are 18+
All American Introduction
Introduced in the 1970s, video poker is now a regular offering in top brick and mortar casinos and even in online platforms. Today, video poker is a favorite casino game played by different types of players. This game even rivals the popularity of another classic casino game, the video slot games. The great thing about video poker is that the results of the game are not just dependent on the random number technology; results are also based on the skills and strategies of the player. Because of the challenge it offers, many established and regular casino players take on video poker. And to address this demand, many leading software providers, including
Playtech
have decided to come up with a huge selection of video poker games. For Playtech, one of the best titles that have been released is All American, a video poker game that takes inspiration from the American symbols and ideals. The game is designed with some of the symbols and colors that promote American pride. Loads of
online casinos
offer
great bonuses
when you sign up to play All American.
All American Details
Although All American video poker is not as superb and popular compared to other Playtech creations like Deuces Wild and Jacks or Better, it still offers a few surprises and punches that can entertain players. The appeal of this video poker game starts with the use of American-inspired theme and symbols that can help promote the love and support for all things American. This Playtech production is played using a standard deck with 52 cards. A player is given a chance to double the winnings earned from a winning hand, and also given an opportunity to score the 4,000 coin jackpot. The minimum bet that can be played is EUR 0.05, and a maximum of EUR 25. The screen also provides a button that help players configure the amount of wager to be played in the game, and also features a 'Bet Max'.
Playing the Game
After the selection of the bet, the system will deal five cards. The player is given a chance to decide on the fate of the five cards. If the player wishes to retain the cards, he will simply press the hold button that can be found under each card. Once a decision has been reached, another hand is dealt. To enjoy the payouts in All American, it is important for the player to get a 5-card poker hand, or form at least Jacks or better. The amount of payout that a player will get in the game depends on the pay table, and the amount of bet.
Gamble Feature
In All American, video poker players are given the chance to gamble their winnings. Players can double the winnings, double half of it, or just walk away and collect the winnings. If a player chooses to gamble, he will need to guess which card among the four has a higher value than the card that is facing up.
Conclusion
Playtech has consistently provided premium video poker games, and All American continues that trend. With an American patriotic theme, and the addition of a gamble feature, this game will definitely impress all types of casino players. And while no wild cards are used in this video poker game, its design allows players to come up with unique combinations for larger prizes.
Top 10 Playtech Casinos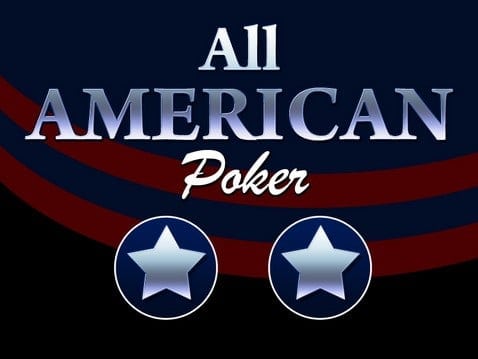 try more games