We require visitors to be 18 years or older to access demo games, please confirm that you are 18+
Aces and Faces Introduction
When it comes to popular casino games, the classic card based games like baccarat, poker and Blackjack are considered fan favorites. These are the usual casino games that are hosted and offered in brick-and-mortar casinos, and also carried by
online casinos
. The great thing about these card games is that the games throw in an element of skill, and not just based on the randomness of every spin. This is also the reason why established casino players play card-based games in casinos. Today, the deck of cards is used as inspiration in the development of
online casino
games. A perfect example is Aces and Faces by Playtech, a game that offers different chances to win, primarily from high-value combinations. As a multi-hand video poker game, Aces and Faces from Playtech delivers great payouts and excellent odds for players who can play strategically. The game can be played for free, which is helpful for starting players, and for money, which is the immediate choice of established players online.
Aces and Faces Details
As a
video poker game delivered by Playtech
, Aces and Faces can be played by choosing the amount of bet. The game's layout provides for the '-' and '+' buttons that can be seen at the bottom left portion of the screen, and can be used to configure the amount of coins to be played. Once the wager or amount of bet has been identified, then the player can click on 'Deal' to start the game. Also, players with a higher bankroll and with an aggressive strategy can select 'Bet Max', and this will instantly play the game for a 5-coin wager. Once the game starts, the system will deal 5 cards from the shuffled deck. This is where the challenge starts for the player. The player needs to decide if he will keep the card, and click on 'Deal'. This step will place the remaining cards on the holes of the 25 hands, in a random order. The pay-out for the winnings will depend on the pay-table. In Aces and Faces, the highest combo is given payment for every hand, and the deck will be shuffled once again for another game.
Payout Highlights
The winnings and payouts in this Playtech video poker game start with pairs, specifically pairs of faces and Aces, hence the name of the game. Players need to get a pair of K, Q and J or a pair of Aces. Also, the game offers payouts for four-of-a-kind, and the payouts are categorized into three. For example, a four-of-a-kind 2 to 10 will deliver 125, provided the game was made on a maximum bet. In case the four-of-a-kind combination involves K, Q and J and made on maximum wager, then the game pays 200. This game will also pay for full house, straight and flush. Players are expected to learn first about the pay-table and schedule before officially playing the game for money.
Conclusion
When it comes to video poker productions, the name Playtech instantly gets into the conversations. One of the best titles from Playtech is Aces and Faces, this game offers different ways to win, using various combinations. To enjoy the jackpots and payouts of the game, it's best to play at maximum, 5 coins, which comes at a maximum payout of 4,000 coins, make sure to check out our
online casino bonus
section to get started for free!
Top 10 Playtech Casinos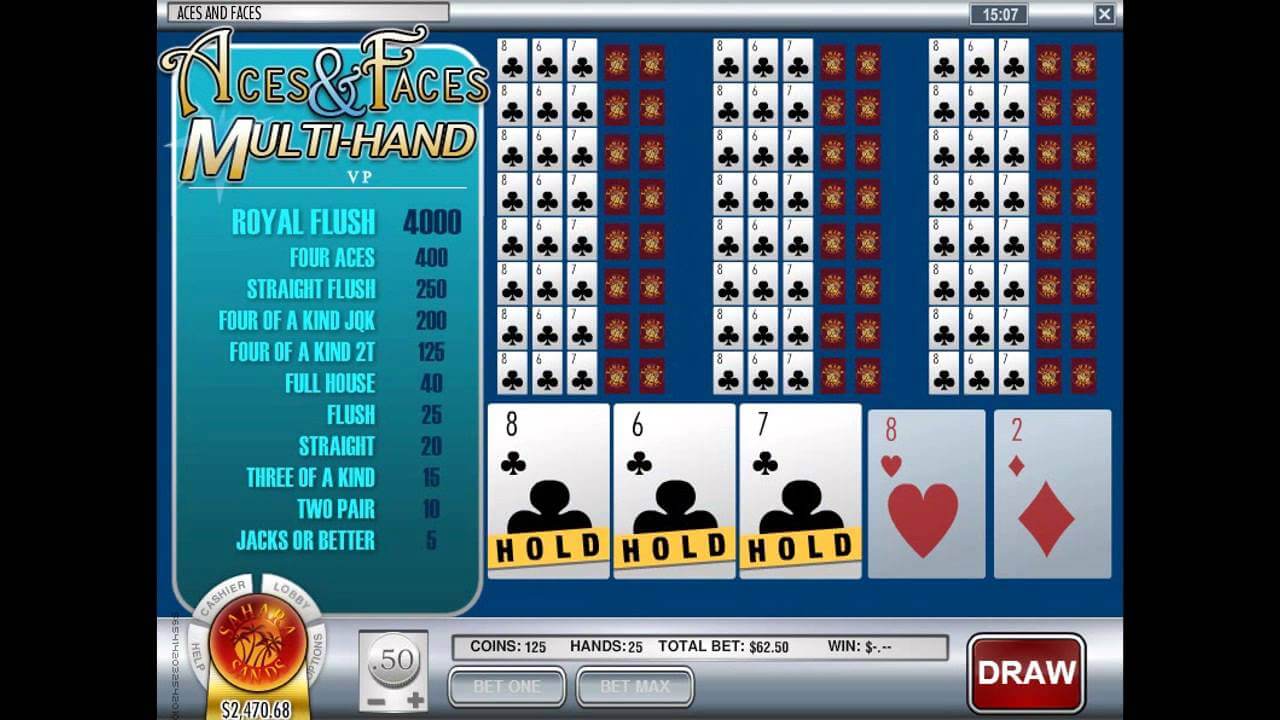 try more games