We require visitors to be 18 years or older to access demo games, please confirm that you are 18+
A Night Out Scratch Introduction
For casino games to retain its appeal and connection with players and casino enthusiasts, the games should offer a stress-free and convenient game play and profitable jackpot and bonus offers. The design and quality of graphics of the game serve as icing on the cake. This smart and fun combination of quality graphics, convenient game play and promising jackpots can be seen in the A Night Out Scratch from Playtech. If you think that the theme and symbols of the game are similar to the slot game that is also offered by Playtech, well you are correct.  This scratch card game shares the same theme and symbols with A Night Out slot game. And both games, from this developer share the same promise to casino game enthusiasts - to offer a casino game that is inspired by pubs and the dance floor, and a game that provides massive opportunities for winnings.
A Night Out Scratch Details
A Night Out Scratch is a scratch card game that takes inspiration from the most happening clubs and bars in the city. In fact, some of the symbols used in the game are hip, fun and too sexy which adds a layer of sophistication into the game. By taking a look at the choice of font, colors and design, it's easy to say that this scratch card game is designed and marketed for the empowered women players out there. But when one plays the game, it can easily be said that this is a game for everyone, and anyone looking for top prizes and cash.
Game Play and Symbols to Watch Out For
The colors and symbols used in this game are inspired by a busy bar scene, complete with women ready to party. Some of the symbols you need to watch out for include two gorgeous women, one in yellow top and blue skirt, and the other person, wearing a brown top and bottom. Another party girl is in the mix, wearing a revealing red top that can make the scratching action hotter. Other symbols that will show off in the panels include fruity and alcoholic drinks, made with kiwis, oranges and strawberries. You will also find a mug of beer, a regular in all pubs and bars.
Women Symbols Pay More
All three women symbols in this scratch card game pays more, with the voluptuous women in brown top and bottom paying 500x the wager. The woman in yellow top pays 50x, and the woman revealing red top pays 100x. The idea behind this game is to get at least three similar symbols. The lowest multiplier is  a combination of three mugs of frothy beer.
Key Game Features
Hip and spicy scratch-off theme
Auto-Play feature, up to 50x
Massive jackpot, up to 500x the wager
Game starts at $0.01
Conclusion
This scratchcard is one of the hottest scratch-off games on the block. The colors and symbols used add spice to the game, and the promised jackpot is something to look forward to. Just like other Playtech scratch productions, A Night Out Scratch Card game offers an Auto Play feature, up to 50x.
Top 10 Playtech Casinos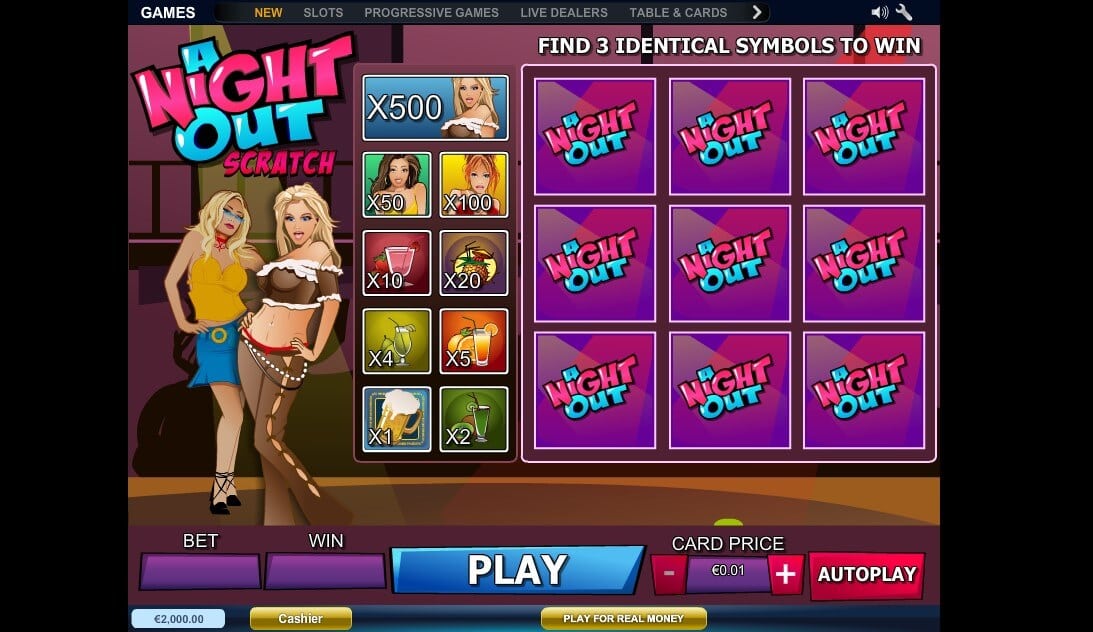 try more games