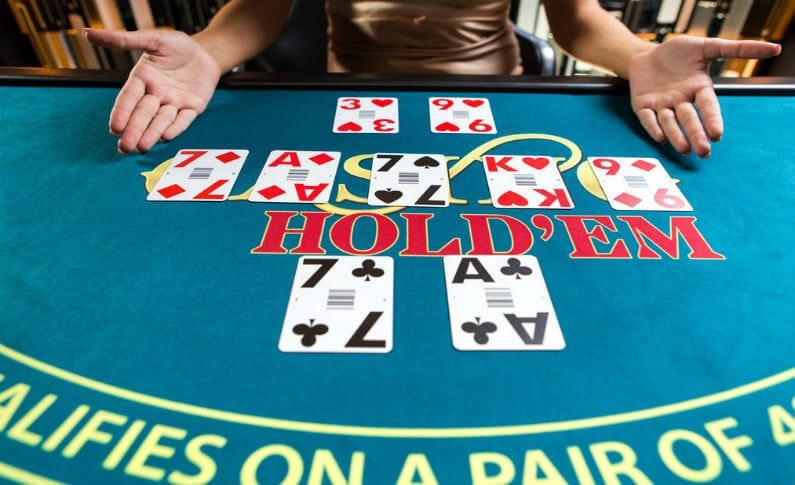 Be the Winner – Your Ultimate Guide to Live Casino Hold'em Strategies
Live Casino Hold'em is an exciting game loved by players the world over. The reasons for this are many, but the most important ones are a high chance to win and the simplicity of the game. Inspired by poker, Casino Hold'em is much easier to understand and you don't need to have a poker face when playing online. The cherry on top is that following a sound Live Casino Hold'em strategy will minimize the risks. Unlike many other games, one doesn't have to do any complex mathematic calculations when developing a strategy for Casino Hold'em. You only need to remember that situations when folding or calling will be the best possible scenario.
Related read:
Texas Live Casino Hold'em shines brighter than online poker in 2018
Live Casino Hold'em Strategies: When to Call
The point of the game is to get the best poker hand with the two hole cards handed to you by the dealer in the beginning of the game and the community cards on the table. Due to the abundance of variations, the ultimate strategy for playing Live Casino Hold'em isn't particularly detailed. Simply put, it boils down to calling more often than folding. On the average, you should call about 82% of the time and fold the remaining 18%.
The situations when you should call include:
You've got any pair in your hole cards.

There are two over-cards.

You've got a flush draw.

Always call king-high and ace-high.

Call any straight draw that's open-ended.

Call Queen-high in all situations except for the community cards being all in a different suit and monotone.

Call a gutshot straightdraw (unless your gut is persistently telling you otherwise).

Call Jack-high in all cases except for a monotone board when you have 2 over-cards.
That's pretty much it. Calling every time you get one of these situations is considered the optimal Casino Hold'em strategy. Now you can see just how simple and straightforward the game is.
However, it's very important to remember that due to its simplicity and low house edge, Live Casino Hold'em is a game that can pull you in and make you lose yourself. A loss of control is never a good thing in online gambling, so be sure to set yourself some playing limits.
You also should keep your bet reasonably low. The reason is that you'll lose it every time you fold, which would be 18% of the time if you follow the optimal strategy. You're also running a risk of losing even when you call, so being careful is smart.
The house edge on a standard Casino Hold'em table is about 0.82% (when using the optimal strategy). However, there are many variations in this game and the edge in them can get over 2%.
If you are a complete newbie, you can use specialised Casino Hold'em calculator to help you decide on whether to fold or call. These solutions are available online for free. However, they aren't 100% accurate, so keep the ultimate strategy in mind when making decisions.
Live Casino Hold'em Strategies: When to Fold
Many guides on this game advise to fold every time you don't get one of the combos listed above. However, the final decision is up to you. The cases when you definitely should fold are:
There's a pair in community cards but you have 10 or less only (the exceptions are when you can turn this combo into a flush or straight).

Fold if your cards are low and there doesn't seem to be a chance of using them for a straight or flush judging by the open community cards.
Live Casino Hold'em Strategies: Side Bets
One of the benefits of Live Casino Hold'em is the presence of AA+ side bets that can really boost your winnings. The payouts can be about 100 for a royal flush, 50 for straight flush, 40 for 4 of a kind, and so on. The trick here is that AA+ side bets in Live Casino Hold'em always increase the house edge. Sometimes they can raise it up to 6.4%.
This means that there's only one solid winning strategy for using side bets in a game of Casino Hold'em. It's NOT to use them at all. The extra risk might bring some fire to your veins, but if you are a strategic player who aims to win more than lose, you'll be avoiding this temptation.
There's also a Progressive Jackpot variation of a side bet for some Live Casino Hold'em games. It's an actual side game and it doesn't depend on the results of the primary wager. You get the jackpot paid in full for a royal flush. If more than one player hits it, the pot will be divided among the winners.
Progressive Jackpot on a Live Casino Hold'em table usually increases with every round until it's finally claimed. This gives you a chance to claim a truly big win. The best thing is that as this side game isn't connected to the main game, the player can win the jackpot even if the dealer beats them or if the payer folds.
Also, read our HitCasinoBonus Navigator – the ultimate guide to online poker acronyms!