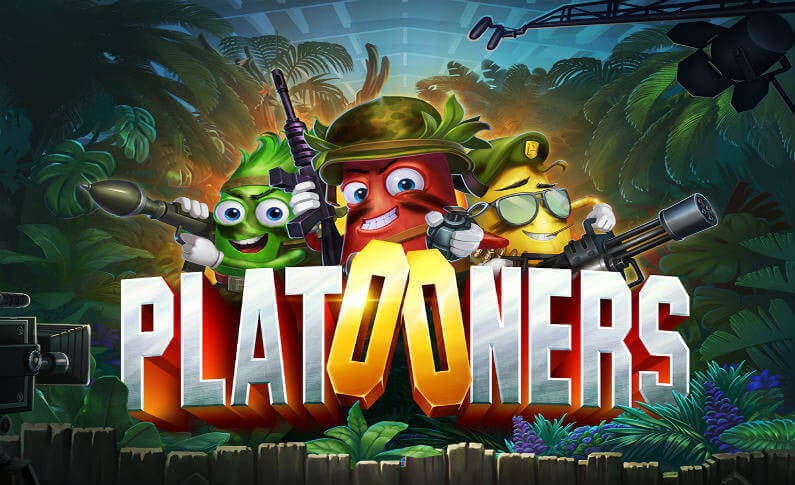 Welcoming ELK Studios Platooners: An Online Slot Not to Be Missed
Since its launch in 2013, ELK Studios has been developing some excellent online casino games that many leading online casino operators are proud to present to their players. A new slot from the studio has recently been added to this collection and it already looks to take a place among the players' favorites. Platooners is an online slot that can't fail to captivate you with its original design and great music. Graphics are excellent, as you should always expect from ELK Studios.
Platooners in Action: A Slot That Knows How to Be Fun
Platooners is a slot featuring three armed recruits ready to start in an action movie of your making. The military might not seem like the best theme for an online slot. However, ELK Studios designed these tiny soldiers to be nothing but fun.
In fact, these heroes of the game are rather cute and you'll definitely enjoy vibrant graphics that appear on the screen every time one of them fires to commemorate some special in-game achievement.
What other slot do you know where a respin is celebrated with grenades blowing up in colorful explosions across the screen? That's what you can expect from Platooners and it's only one of the many amazing visual effects the game offers.
Platooners is a classic online slot in a lot of ways. It has a rather traditional 5-reel slot gameplay and gives you 178 different ways to win. The biggest win you can score here is 250,000 coins, which makes Platooners a very rewarding online slot with an RTP of 96.3%.
HitCasinoBonus Navigator – Your Ultimate Guide & Glossary to Online Casino Terms & Acronyms!
You play this game the same way you do any slot, which makes it rather simple and enjoyable. However, there can be no doubt that you won't mix Platooners with any slots because the game's design is out of this world.
The concept might be very simple, but the ELK Studios team definitely knows how to make simple things attractive. The game is so fun, you won't feel like playing a slot. It's more of an adventure hunting for new fun special effects triggered by different combos.
However, Platooners does stand out from the majority of slots because here you do not only choose the size of your bet. You can actually set a betting strategy. And that takes slots playing to a whole new level.
The strategies on offer are:
Jumper.




The Jumper strategy is tied to winning. It will increase your bet after every win for up to four levels. The cycle will reset after you lose.

Leveller.




The Leveller strategy is for the daring. It will bring your bet up after you lose five times in a row. Should you repeat, the bet will go up again for up to two levels. To reset the strategy, you'll need to win.

Optimizer.




This strategy will automatically change your bet depending on your balance. It's tied to the balance percentage and will adjust based on what you select.

Booster.




The Booster betting strategy will have your bet automatically go up a level after every loss. This will continue for four levels and reset when you win.
If having betting strategies is not enough for you to believe how exceptional the Platooners slot is, the Action Spins feature will surely do the trick. That's when the fun graphical effects come into play. The Action Spin can trigger after any spin. When it does, the platooners themselves come out and start firing and hitting all kinds of pleasant surprises for you.
Each of the platooners has his own special powers:
Red Grenades Platooner is completely out of control, as you should expect from a strange creature armed with grenades. It can bring you random Wilds as it spills its ammo around in random directions.

Green Rockets Platooner obviously has some history with reels 1 and 3 as he only hits them with his rockets. When he does, they get filled with identical symbols.

Yellow Bullets Platooner is armed with a heavy machine gun, so there's no fooling around with him. This guy is all business and when he appears, you are sure to win. He will attack reels 2-5 and will not stop until you get 5 of a kind in at least one payline. This platooner should be your best friend for big wins.
The platooners do not only fire to get you more chances to win. They battle actual enemies while in the game. This happens when you get 3+ bonus symbols on the reels, which will trigger a 15 Spins feature. That's when the snakes come out and the more of them you manage to help platooners hit, the greater your winnings will be.
That's sure to be a fierce battle, so be prepared that playing Platooners will be far more intense than any average online slot. ELK Studios definitely knows how to keep the players on their toes.
So, if you feel like nothing can surprise you in an online slot, be sure to play Platooners.
Top 5 Elk Studios Casinos