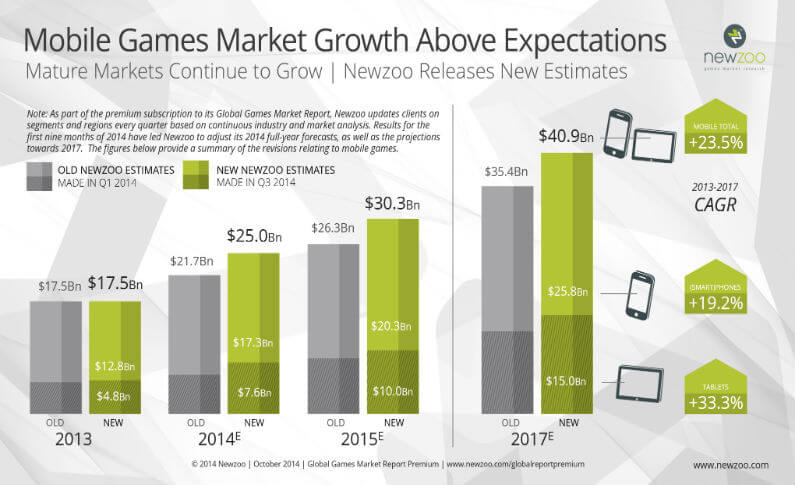 Posted in Industry
August 20, 2017
Staggering Growth of the Mobile Gaming Industry: $40.6 Billion Revenue
Google announced that starting August 2017 Google Play Market will be open to real money gambling apps. It's a testament of the incredible growth of the mobile gaming industry and its gambling section in particular. Mobile games have already generated $40.6 billion revenue in 2016 and the industry still grows. This new initiative from Google will definitely boost this number. We can expect mobile gambling apps to take even more prominence now that they are becoming more easily available.
For now, only the gamblers of France, the UK, and Ireland will be able to download these apps from Google Play Market. The operators will have to provide a variety of supporting documentation, such as licenses, to get approved. The process seems a bit complex, but it's a huge step forward for the industry as a whole. With this one change, Google has acknowledged and shown its approval of mobile gambling apps. As over 90% of all online searches go through Google, this recognition matters a great deal.
The mobile gambling industry has been growing rapidly over the last years. Now Google helps it reach more people. More countries will definitely follow soon, expanding the mobile gambling app market further.
Mobile Gaming Industry Revenue Growth: A Glimpse of Success
In 2013, PocketWinnings published an infographic that predicted the mobile gambling industry will grow to $100 billion by 2017. Mobile casinos aren't there yet, but the mobile gaming industry has reached over $40 billion.
Today, over 2.6 billion people all over the world own smartphones. 62% of them install at least one game within a week of purchasing the device. Mobile apps aren't merely 'hot', they are 'scalding' as there were about 90 billion of downloads in 2016 alone. The majority of them come through Google Play Market as Android is the dominant mobile OS in the world.
The total revenue of all mobile apps reached $89 billion in 2016. As you can see, almost half of that came from mobile games (40.6). More and more often people choose to use their smartphones to play, and to gamble as well. Every major casino in the industry has a dedicated mobile app or a mobile version of its own. Some of them, such as Casumo Casino, are mobile-first as they are optimized with these devices in mind.
With the latest changes from Google, we can expect more people to start using mobile gambling apps. Of course, they will still be limited by the local gambling laws. However, now everyone will be able to come across these apps and try them out, even if they aren't looking for them specifically.
Mobile Gaming: Types of Apps
The mobile gaming industry develops rapidly. Tech advancements available today allow making mobile games with a high level of functionality and stunning graphics. NetEnt, with their latest Mobile Live casino showed the world that any platform can provide a stellar gambling experience. As even today we have Samsung smartphones that can function with Virtual Reality (VR) visors, soon completely immersive online casinos are sure to migrate on mobile devices fully. Read more about Virtual Reality here!
For now, there are two main types of mobile gambling apps, native and web applications.
Native mobile apps are programs developed specifically for mobile devices. The vast majority of applications on your smartphone and tablet are native. As they are designed for the platforms they run on, these programs allow pushing the hardware's resources to the max.
However, there might be some compatibility issues with them. For example, the app might be glitchy when running on an earlier version of the OS. The coding language used to write the apps also imposes some limitations on their functionality.
Yet, despite these disadvantages, native apps are much more stable, efficient, and overall better. They allow to include a variety of handy features that smartphone owners love so much, like push notifications.
Web apps are programs developed for web browsers. You don't need to download and install them separately, which saves some space in your device's memory. In essence, these are Instant Play casinos for mobile devices. You access them the same way, using your gadget's browser.
This type of coding offers limitations of its own, and such gambling apps also have lots of compatibility problems. However, they run reasonably well across all platforms, so some casinos choose them for the players' convenience.
Casinos That Embraced the Mobile Gaming Industry
We've already mentioned that every major online gambling operator offers some type of a mobile casino. However, few accomplished this as well as Mr Green Casino. Their native mobile casino app became the Casino App of the Year in 2016. Few similar programs on the market can match it in beauty, efficiency, and ease of use.
The program is available for both Android and iOS devices. Unlike many other programs of this kind, it doesn't try to replicate the Mr Green Casino experience provided by desktop computers. Instead, it offers a unique type of experience better suited for people used to playing on mobile devices. Mr Green Mobile Casino shows other operators the way to go and we can expect more of stunning apps like this in the future. Sign up with Mr Green Casino today – and get your hand on a hefty Welcome Bonus!
Featured Casino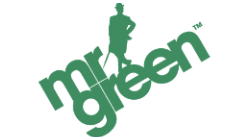 There really aren't many online casinos that exceed Mr Green Casino. With a fantastic selection of games, easy depositing options and a nice selection of bonuses, this casino should appeal to all players. If you're a bonus hunter, you've come to the right place, as there are loads of great bonuses and promotions to take advantage of at Mr Green Casino. They start with the Welcome Bonus, which is a 100% first deposit bonus, worth up to £100. What's more, players will also be rewarded with 100 Free spins at selected slots when they deposit £20 or more for the first time. Claim it all and start playing today!