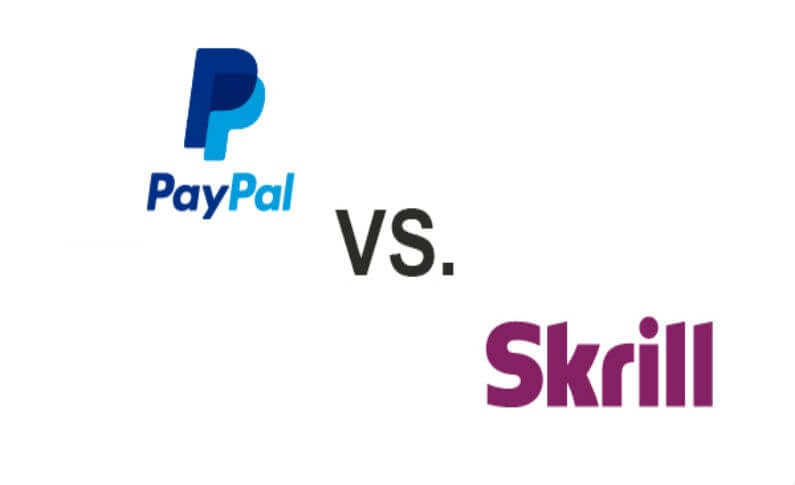 Posted in Industry
August 2, 2018
Skrill Vs. PayPal: Which Is the Ultimate Online Casino Payment Method?
When you play at online casinos you need to have a method of depositing and withdrawing money that is secure, fast, easy to use, and doesn't rob you with high fees. Skrill and PayPal match all of these requirements and more. Both of these casino payment methods are extremely popular e-wallets. When deciding between them you'll need to compare the small differences in the services provided as well as their availability at your location.
Skrill Vs. PayPal: How Do I Sign Up?
As both payment methods are e-wallets, the sign up procedures are rather simple. You load the service's website, register, provide the required information, and once it's verified, your account is activated.
Mandatory banking and personal details are the same for all e-wallets and the majority of payment services in general. The verification process is where the main difference lies. Skrill will have your account approved within 24 hours max, while PayPal might need up to 48 hours.
Registering your e-wallet as well as all applications that will allow you to manage it from any device are free.
Skrill Vs. PayPal: How Much Do I Pay in Fees?
One of the most important questions to ask when looking for the best online casino payment methods is 'what are the transaction fees?' You should ask it when looking for a casino as well, because some gambling operators charge a fee for deposits or withdrawals (or both). Note that the casino might charge that fee for some specific payment methods only, so be sure to study its Terms & Conditions carefully before registering your account.
Neither Skrill nor PayPal charge any fees for receiving the money into your account.
Both Skrill and PayPal charge a fee for withdrawing your money in cash:
For Skrill, withdrawals through local payment methods (banks) come with a fee of €5.50. Transferring your Skrill money to a Visa card will rack up to 7.5% in fees.

PayPal will charge $0.25 per transfer if you use their instant transfer services with an attached debit card. Withdrawing money to your bank account is free.
Transfers between Skrill wallets come with a 1.45% charge and you'll pay a 3.99% fee for converting currencies.
Although PayPal seems to have friendlier terms at first glance, the PayPal User Agreement has a detailed breakdown of their complex fee structure. Be sure to study it carefully as the type of the business you have transactions with as well as its location will matter for determining the final charge.
When comparing Skrill vs. PayPal fees, Skrill charges higher overall. However, neither offers a completely free service. To find the best terms you need to consider your unique personal circumstances as well as the casino's terms regarding these payment methods.
Skrill Vs. PayPal: When Will I Get My Money?
Withdrawal times are nearly as important as withdrawal fees for the majority of online casino players. In this regard PayPal has Skrill well and truly beaten. This e-wallet can process withdrawals in about 2 hours. Skrill, on the other hand, will require up to 24 hours.
While this difference might seem disparaging, remember that regardless of how long it takes to turn your winnings into cash, you already have that money on your account. You also need to understand that the exact times are determined by a variety of factors and can be extended or reduced depending on the situation.
Top 5 Skrill Casinos

Skrill Vs. PayPal: Can I Get VIP Treatment?
VIP services and loyalty programs are one huge difference between Skrill and PayPal. To put it simply, PayPal doesn't have any program that will provide you with any special advantage if you put more money into your e-wallet.
Skrill, on the other hand, will give you loads of bonuses as a part of its VIP program. There are four levels to it, each with its unique benefits:
Bronze.




You get this status when you accumulate €6,000 of transactions within a single quarter. This basically gives you a slightly lower transaction fees.

Silver.




To gain silver status you need to transact over €15,000 in a quarter. This will provide you even lower fees with some removed completely as well as an additional account for a different currency as well as priority bank uploads.

Gold.




A gold account requires transacting over €45,000 in one quarter and gives you the same perks as silver, but the remaining fees are even lower and you get two accounts. Starting with this status also gets you assigned a personal account manager.

Diamond.




The best of the offered VIP deals from Skrill, diamond requires €90,000+ in transactions. You get three multi-currency accounts, all possible perks and the lowest fees.
Skrill also has other interesting programs like Skrill Ambassador.
Skrill Vs. PayPal: Will I Get Help?
Customer support services for both Skrill and PayPal are notoriously bad, which you can learn by surfing through multiple online forums where people post their complaints. However, both companies do offer some type of support round the clock.
It's when their basic FAQ pages and chatbots cannot deal with the issue that you might face some problems.
Skrill Vs. PayPal: Will I Get Extra Bonuses from the Casino?
It's very important to understand that Skrill and PayPal have very different positions on the subject of online gambling. Skrill is a service that was created for iGaming transactions. It actively encourages using it to fund your online casino accounts by offering multiple special deals and promotions that will make this service more beneficial.
Casino operators have the same position toward Skrill and many bonus offers are available for those making deposits through this payment method. That's one reason why you should always read the Terms & Conditions for every promotion as oftentimes only deposits through certain services and from specific countries trigger the bonus.
PayPal does not actively support its accounts to be used for online gambling. Not only will you get no special bonuses for your PayPal account, many of the casino promotions might be closed to you because this payment method isn't on the 'approved' list.
You might also have some issues transferring the money to and from your casino accounts when dealing with a PayPal wallet.
Skrill Vs. PayPal: What About My Security?
Your money and data are as safe as can be using either of these services. Both employ robust measures of digital security to protect their customers' accounts.
You also benefit by default by using e-wallets to make payments to an online casino as this way the casino doesn't get direct access to your banking information. So, even if your account is compromised, the most important data will remain secure.
What's the Best Online Casino Payment Method, Skrill or PayPal?
Both Skrill and PayPal are good online payment methods to use. However, despite being secure, simple, and reliable, these services are developed for different purposes. While there's no doubt that PayPal is a superior e-wallet for online shopping it's not the best for online gambling.
Skrill definitely takes that title because this service offers you a variety of additional benefits and is accepted by the majority of casinos.