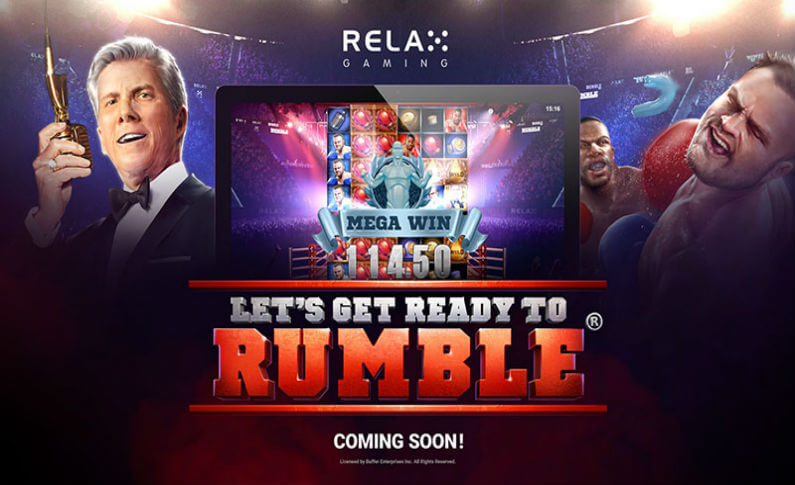 Relax Gaming Releases Let's Get Ready to Rumble
Relax Gaming, a top-rated iGaming content provider, is proud to present the highly anticipated and its first branded title called Let's Get Ready to Rumble. Meet the legendary announcer Michael Buffer as he shouts his iconic catchphrase "Let's get ready to rummmmble!" into the audience once again. 
Whether Relax Gaming had to pay a ton of cash to persuade Michael to "rent" his voice remains unknown, but one thing is certain – a world-famous catchphrase that generated over $400 million in revenue didn't come for free. 
Prepare for an action-packed and fast-paced reel fight; the developer has brought together three random features that will keep you on the edge of your seat at all times, giving you 466 ways to win up to 2,389 times your bet! The slot may have the mathematical advantage, but thankfully, these features will help you along the way. 
Visuals and Gameplay
Visually, the game looks more like old-school arcade-style boxing games than the grown-up PEGI 18+ variants. In fact, there isn't anything that remotely resembles violence whatsoever. No punches are being thrown and no brain-damaged boxers are slurring the name of their lovers. Truth be told, there isn't even a single drop of blood. Not that we're some gore-craving brutes, it's just we weren't expecting something that looks harmless. 
Set in a boxing arena, the cheering crowd in the background creates an authentic environment together with shifting spotlights. Symbols on the reels include an assortment of medium-value boxing gloves, ringside bells, championship belts, and microphones, as well as lower-paying bandages. The bandages appear in yellow, blue, and red, giving you 0.5x your bet when six of them land on a payline. Hitting six medium-level symbols across the reels will get you 0.8x your stake.
Michael is, of course, the most rewarding symbol. Six of him on a line will get you four times your stake. A hanging boxing bag is the wild symbol, substituting for all symbols. 
Check out the sneak peak below:
Let's Get Ready to Rumble Features
The slot doesn't feature any scatter or bonus symbols. Instead, you can trigger three types of unique features which can randomly appear during any spin. 
First is the Sticky Spin feature which can randomly be triggered on 1-symbol win where the winning amount is less than the bet size. The winning symbols stick while a re-spin is played. If new symbols land, they will also connect and trigger yet another re-spin. This will continue until no more symbols are added to the original win or the entire screen is covered with matching symbols. If a screen full of Michael Buffer symbols appears on the reels, you can win up to 1,864x your bet.
The second random feature is the Wild Stacks feature which can randomly add two to five full-stacked wilds. However, Wild Stacks cannot be placed on the first reel. 
The most valuable is the Rumble Spins feature. Since it counts as the game's Free spin bonus, it's also the hardest one to trigger. When triggered, this feature can activate multiple enhancement features awarded sequentially after the reels come to a stop. 
Cross Wild
Adds 3-5 wild symbols on the reel set and can be triggered up to eight times. 
Uppercut Wild
Adds a full wild stack on the rightmost reel and can be triggered up to three times. 
Wild Hook
Moves the wild stack from the rightmost reel to reel two or three. It can be triggered up to two times. 
Title Fight
Adds two rows above and two rows below the active play area, expanding it from 466 to 1436 ways to win. 
And hey, still having trouble to understand the meaning of paylines, reels, scatters, wilds, symbols and other weird terms? Stay calm – we got you covered! Just head over to HitCasinoBonus Navigator – Your glossary to master online terms & abbreviations.
Game Details
Let's Get Ready to Rumble is a six-reel, four-row slot game with 466 ways to win. The size can expand during the features from a 6×4 to 6×8 format, creating 1,436 connecting ways. The game has a medium to high volatility, with an RTP of 96.14%. You can play it using all devices, and the betting size ranges from $0.10 to $100 per spin. 
Read more about the meaning of RTP (Return to Player) here.
Final Thoughts
Truth to be told, Let's Get Ready to Rumble's lack of bonus games or Free spins was quite disappointing. During our test run, it seemed that the volatility was a bit higher than it was supposed to be, but the game compensates for it with slightly more frequent feature triggers. All in all, Relax Gaming created an entertaining and suspenseful game featuring the iconic Michael Buffer who should attract not only boxing fans but many others too.
Top 10 Relax Gaming Casinos