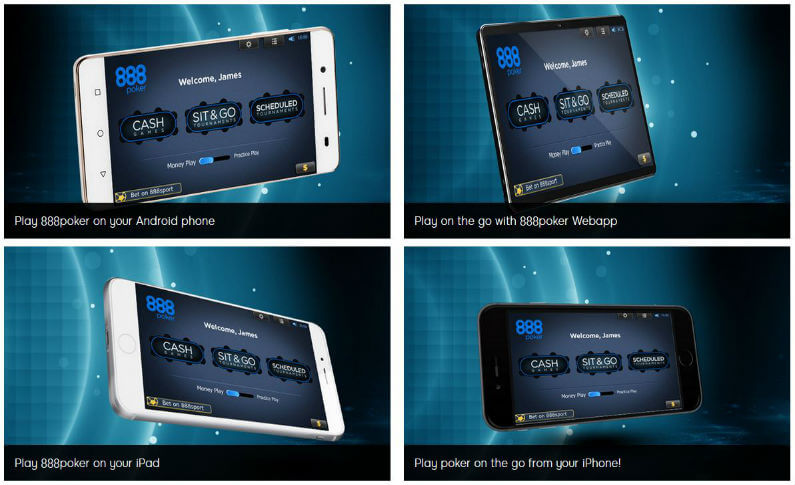 Posted in Industry
February 13, 2020
Portrait-Mode Gameplay for Poker Apps
Poker is not going anywhere for now. It's one of the games that readily embrace new tech trends, bridging the gap between experiencing the game live or at home. For some players, playing at home is a preference, while for others – a necessity. Whatever the case may be, poker operators now offer live casino games through mobile platforms. Poker players can play their favourite game on the go wherever they want, while human dealers do their thing on a web camera with card values presented to you via OCR. 
A Passing Fad or a Blueprint for the Future?
Since the inception of the first iPhone back in 2007, it felt more natural to hold them vertically. Maybe that has something to do with the way these devices were constructed. Regardless, most iPhone users feel more comfortable to clasp their phones in an upright position when watching video content, communicating via messaging apps, or scrolling through media feeds. 
The world of mobile poker has succumbed to this trend, with certain operators having their poker apps redesigned from top to bottom. Companies like Partypoker and Playtech have introduced a portrait view on their poker apps, as well as the option to rotate the screen 90 degrees from the traditional landscape view. These adjustments will give players a whole new experience of playing poker on mobile devices. For now, the refurbished look of the Partypoker is limited exclusively to Spins games, while other game formats will keep using the old legacy design. The poker operator plans to deploy the new layout to other types of games as well in the first part of the year.
Partypoker Mobile App Goes Portrait
Among the most notable features of the new app is that the tables have been entirely redesigned in portrait orientation, making it much easier for players to play one-handed. 
It seems that the landscape mode table which required players to turn the phone on its side and having both hands to control the mobile device are long gone now. Instead, a more straightforward and visually-appealing portrait mode with bet sliders, buttons, and other controls has been introduced. 
What makes this improvement even more impressive is that the portrait mode now also supports multi-tabling play. So, now players have access to four tables, and there are all visible in the split-screen view. Not only can players view all four tables at once, but they can also perform actions from this zoomed-out angle. 
Adding new tables is also more straightforward, as players merely have to tap on the plus sign visible at the top, and new options will appear. The app also displays all-in equity when two or more players are faced in an all-in battle. This option is available only in Texas Hold'em games. 
Overall, the tables appear much easier to use, they are modernized, and the software feels responsive and intuitive. 
The Best Poker Players of All Time (and Their Strategies)
Reformed Spins Lobby
Apart from the tables, the app developers have also reworked the main lobby. So, now players can opt to switch either to a carousel or tiled view of the different buy-ins available. A filter option that allows a player to see only the games they would like to see has also been added. Furthermore, players can simultaneously register up to four games of the same buy-in. 
Playtech Hops on the Bandwagon
Playtech, one of the leading gambling software developers in the iGaming industry, has also introduced a portrait view for its esteemed poker network – iPoker. Players can choose to play vertically, or they can stick with the traditional landscape mode. The software uses dynamic avatar placement that allows utilising the space available better. 
Who Else Is in Board?
Aside from Playtech and Partypoker, leading poker network GGPoker also has an app that allows vertical play. Meanwhile, 888 is working on portrait mode for its app, and Unibet has just launched a separate version of its lottery-style HexaPro poker variants for Kindred's casino sites that can be played vertically. With most heavy hitters in the poker world seemingly now embracing this trend, it's only a matter of time before PokerStars, the world's largest poker operator, adds this feature to its apps. 
Featured Casino
888 Casino continues to be the undoubted leader in the online gambling industry since its launch in 1997. The casino is offering the largest number of games for online gambling covering the array 888 Backgammon, 888 Sports, 888 Bingo and 888 Poker, to provide the unmatched online gambling fun. Read through our review and learn how to claim a huge Welcome Bonus package worth up to €1,500! 18+ only, T&Cs apply (see link below)
Final Thoughts
It's debatable whether poker has taken a page out of casino's book to some extent with RNG-powered casino, live casino, and slots offering vertical play for some time now. Slots were the first games to offer a portrait option and, nowadays, around 84% of mobile slot releases are played in portrait mode. Meanwhile, NetEnt was the first to introduce portrait mode for live casino content. 
Like casino gaming, online poker must adapt to the latest tech trends if it wants to stay relevant to the gaming community. While playing poker in this orientation may not be everyone's choice, it's undoubtedly a necessary adjustment. Poker is still a highly popular game, and juggernauts like Playtech are trying to reinvent itself by offering an improved UX on this popular game.