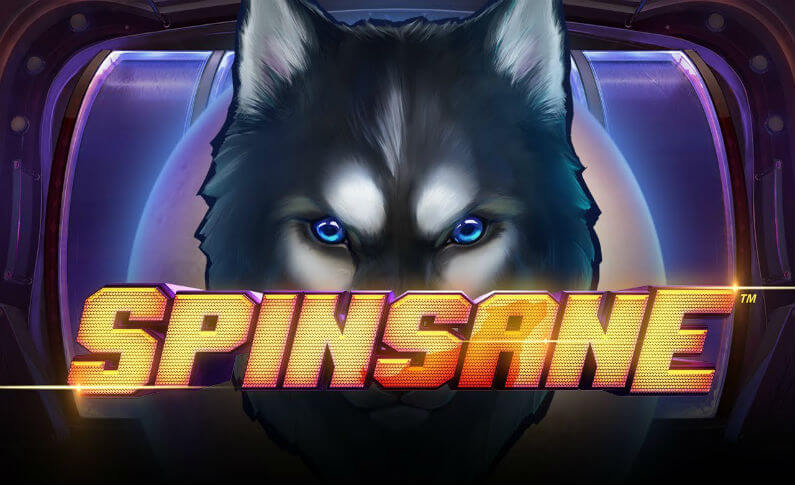 NetEnt Releases Spinsane™ Slot!
A brand new slot machine is out! If you are new to the online gambling community, you might not find this news fascinating. However, everyone who is familiar with the online gambling industry and its history knows that NetEnt is one of the largest and most successful companies out there. A new game from them means thousands of hours of fun for millions of people playing from all parts of the world.
Some gamblers enjoy exploring brand new online casinos and unknown software providers. The main problem they face is the availability of the games they are looking for. Spinsane™, on the other hand, can already be found in over 150 casinos, which makes it available to people from all over the world. 
If you want to learn more about NetEnt and other successful software providers, make sure to check out other articles on our website as well.
Basic Information
The first thing everyone wants to know, even before the game comes out, is the Return to Player percentage (RTP). NetEnt has so many loyal customers that they simply cannot afford to mess up the RTP. Although they were not too generous this time, the RTP of 96.26% is exactly where it needs to be — not too high, but also above average.
If the RTP got you interested, it's time to go over the structure and the gameplay itself. Let's see how NetEnt decided to arrange the symbol fields. The golden rule when making an online slot is that you cannot make a mistake if you go for the five by three layout. Although this game has a lot more potential, the developers decided to stick with the standard 3×5 scheme. To simplify the gambling process, NetEnt decided to implement 27 fixed paylines. 
That might be great for beginners, but some veterans and low bettors prefer being able to activate either only one or all available paylines. Unless you have a unique advanced technique for playing slot machines, fixed paylines shouldn't be a problem, as the betting system doesn't require you to place a fixed amount of money on each one, which is what we will be talking about in the following sections.
Read more about RTP in our complete guide!
The Game Looks Great!
Before we start talking about bonus features, as well as special and regular symbols, let's take a moment to appreciate the work designers and animators at NetEnt put into this game. A dark theme with neon lights and animated reels is what people want to see nowadays, especially with the enhanced technology used by giant companies such as NetEnt.
We tested the game in multiple browsers and on different devices with various screen sizes, and the optimisation is spot on. Regardless of how big or small the device was, the game found the edges of our screen and placed all of its elements accordingly. A great touch to the paytable window is that you can either swap left or right or simply use the arrows, which is convenient for people playing on their desktop and laptop computers.
Betting Span
We might have scared you with the fixed paylines and by saying that there is not enough freedom for all players, but Spinsane's™ betting range and its utility are there to fix that. There are two things you can adjust:
Bet Level

Coin Value
There are ten different bet levels, while the coin value ranges between 0.01 and 5.00. Setting everything to the maximum allows you to bet 500 pounds in just one spin! In case you prefer lower bets, the lowest it gets is 0.10.
Spinsane
™

Symbols and Bonus Features

Everything we previously talked about is extremely important when it comes to online slot machines — from the RTP to the betting range. However, symbols and features define the game as they can either disappoint or please the players.

We believe that NetEnt did a great job when it comes to the design itself. All the symbols are unique and have animated features, which is why we are not surprised to see the game in multiple top 10 charts already.

What's interesting is that there are only five different symbols in the game, including two special ones. The wolf icon is the most valuable regular icon, followed by a paw and a tooth. All three symbols have a super version of themselves. They look almost identical, except that super symbols have a scratch mark across them. The best thing about super symbols is that combining five of a kind rewards ten times more compared to the regular ones.

Of course, NetEnt had to include the wild card that substitutes for every symbol on the table, with the exception of scatters.

Collecting at least five scatters in one round is the most rewarding part of the game. Each scatter rewards two Free spins (only if five or more appear in the same spin). However, during the Free spins feature itself, each scatter will add one free roll to the counter, regardless of how many appear.

Spinsane™ lacks additional bonus features, as players are already used to Free spins. Super symbols and scatters add one spin during the feature, which makes up for that, but if you are looking for a game filled with features and mini-games, then you might be slightly disappointed.

And hey, still having trouble to understand the meaning of paylines, reels, scatters, wilds, symbols and other weird terms? Stay calm – we got you covered! Just head over to HitCasinoBonus Navigator – Your glossary to master online terms & abbreviations.
Summing It Up
Simple gameplay, brilliant design, a wide betting range, and a fair RTP. What else could we look for in a slot machine nowadays? If you ever get stuck or you cannot understand how a specific part of the game works, we recommend thoroughly reading this article once again. 
The game is playable both for free and for real money, meaning that you can start playing with cash right away if you know what you are doing. For complete beginners, this is a great game to start with — the structure is simple and there aren't too many features. Check out some great options when playing NetEnt games – we have a lot to choose from!
Top 5 NetEnt Casinos