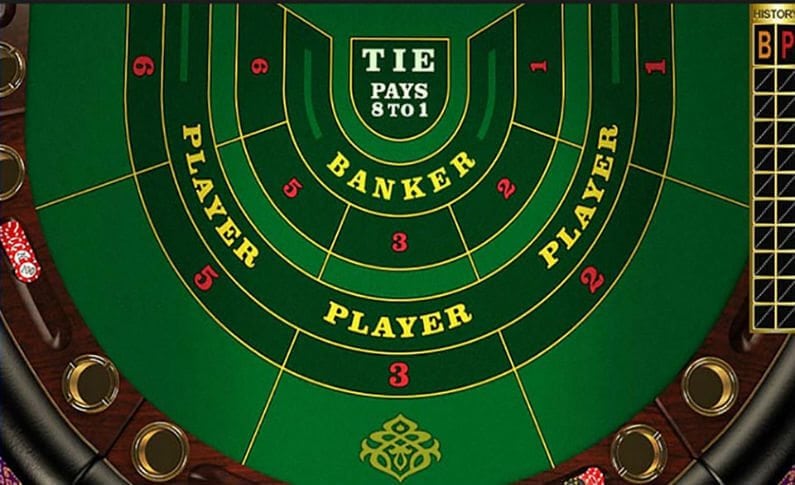 Mastering Online Baccarat: 6 Tips for a Newbie
Online baccarat is the perfect game to start your acquaintance with the world of gambling. No matter whether you are a newbie or not, you'll be able to enjoy it, understand it, and win. The beauty of the game is its simplicity as well as the fact that there are some surefire tricks that'll help you become an ace fast. These online casino baccarat tips for newbies might seem ridiculously simple, but the game itself is that way. You only have three bets to choose from, and you never bet on 'Tie' in baccarat.
That's not a tip, it's a rule you should follow unless you feel up to losing some money. Not only is the house edge about 14% on this bet, but the chance of it winning is so rare, those 9/1 payouts actually seem low. As online baccarat is a low-roller game by default, you can see what that means.
Some of the best places to play baccarat online are 888 Casino.
Featured Casino
888 Casino continues to be the undoubted leader in the online gambling industry since its launch in 1997. The casino is offering the largest number of games for online gambling covering the array 888 Backgammon, 888 Sports, 888 Bingo and 888 Poker, to provide the unmatched online gambling fun. Read through our review and learn how to claim a huge Welcome Bonus package worth up to €1,500! 18+ only, T&Cs apply (see link below)
6 Online Baccarat Tips for Newbies That Professionals Swear By
When in Doubt, Bet on 'Banker'
While betting on 'Tie' is a non-official taboo of baccarat, putting your money on the 'Banker' is the exact opposite. That's why the house has a commission from each of these bets. Still, it's the best choice for winning as this option comes out on top a little bit over 50% of the time.
'Banker' should be your first bet in baccarat, and many people stick to it by default. When the stakes are low and you just want to relax without stressing out your bankroll, this option is for you. It's as near to a guarantee of winning some as you'll ever get in online gambling.
Get Onto the Streak
Streaks are relatively common in baccarat and the best betting strategy in this game is to pick a bet ('Banker' or 'Player') and stick with it until it loses. So, if the 'Banker' is winning, bet it until it's not. The same with the 'Player' bet.
'Ties' don't get streaks, and if you happen to witness one, take note of that day, it deserves to be marked red in a calendar somewhere. In case you don't encounter such a miracle, 'Tie' wins simply do not count in the best baccarat betting strategy of sticking to streaks.
Wait Out the 'Banker' Streak After One Loss
Getting onto a 'Banker' streak is the pinnacle of an online baccarat strategy for a newbie and everyone else as well. So, what do you do when that bet loses?
You wait.
Yes, you wait out the next decision and start betting on whichever bet wins the round after the next one. Except for the times that the 'Tie' wins as it doesn't count.
Note that if 'Player' loses, you should jump that train back to 'Banker' right away. This strategy isn't 100% foolproof, but it's definitely effective and least risky. That's why it's offered in the baccarat tips for newbies guide.
Forget Betting Systems With Rising Bets
Do you know what the 'Martingale' betting system is? Or any other system that calls for raising and lowering bets in a specific order?
If not, you are lucky as you won't be getting deep into red on an online baccarat table by using them. If you do know, forget about these strategies and just stick with minimal or slightly above bets.
Online baccarat tips for newbies might seem easy and the game itself is, especially if you're lucky enough to catch a winning streak. However, playing around with bet sizes is the main reason for those few cases when baccarat causes a lot of losses.
Set an Unbreakable Betting Limit for Yourself
The simplicity and good chances of winning make online baccarat great for building up your confidence. They also make it dangerous as it's easy to get carried away. If you want to avoid that, you'll have to set a limit for your baccarat session and to not exceed it.
For example, say the minimum bet at your game is 10 and you are ready to bet 100 units max. When you reach that mark, you need to stand up and walk away from the screen. Give yourself time, preferably at least a few hours, before gambling again.
Note that it doesn't matter if you're winning or losing. You have to stay within the limit you set for yourself. In fact, it will be better to leave when you are winning as this will leave you with a positive balance.
Don't Play Too Long
Online baccarat is a game best played in sessions. And those sessions should be short. This will allow you to take those necessary cooling breaks mentioned above.
Set two limits for yourself, one for the maximum total bet and one for the time spent playing. As online baccarat is extremely fast-paced, the sessions can be only 5-10 minutes long. It's best to count them down by games. For example, you take a 20-minute break every 20 games or so.
Use these tips and you'll be playing and winning in online baccarat like a pro in no time!
And hey, there are a lot more readings around this cool topic – check our Live Casino section out. Live Games in general, and Live Baccarat in particular, is one of the fastest growing games within the online casino industry. Have fun!