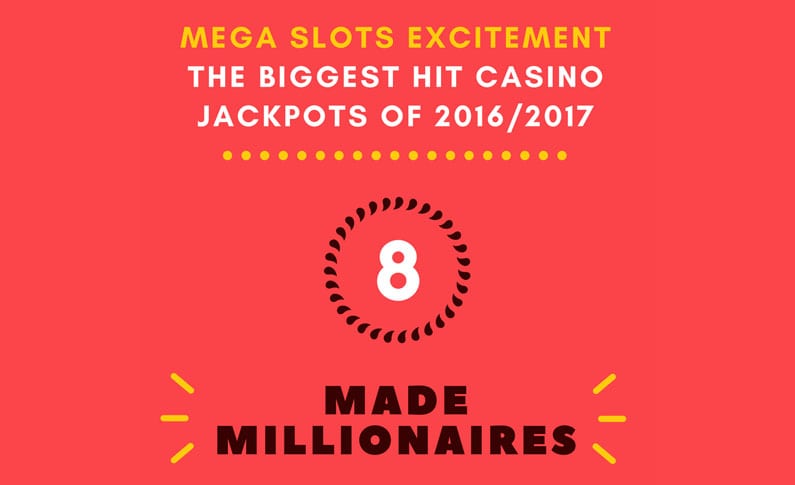 Infographic: Mega Slots Excitement – The 8 Biggest Hit Casino Jackpots of 2016 & 2017
It seems that 2016 and 2017 are another record years for online casino and online slots entertainment, especially hitting jackpots. Based on the latest figures coming from the industry, it seems that a number of online slots enthusiasts have been turned into millionaires, and we are not complaining! In recent years, slot games have become a real 'millionaire-maker', dominated by top slot games designed and supplied by top software providers like Net Entertainment (NetEnt), Playtech and Microgaming. The jackpots vary by game provider, but the exciting results are all the similar – players ending the game with an enthusiastic smile and great memories to treasure. So in celebration of the recent winnings recorded in online casinos and online slot games, we count down the top 8 biggest (and most exciting) slot game jackpots won in 2016 and so far in 2017. As part of this, we're also providing an infographic special: "Mega Slots Excitement – The 8 Biggest Hit Casino Jackpots of 2016 & 2017".

The Biggest Claimed Jackpots of 2017: First Millionaires of the Year
Online gambling is not merely a great pastime one can indulge in to get a rush of adrenalin. It can become a life-changing experience for those who win the biggest online jackpots. Those lucky individuals are more numerous than one might think. This is amply proven by the fact that several people managed to become millionaires with the help of online slots within these first three months of 2017 by claiming enormous progressive jackpots.
Note that these are only the top winners and there are hundreds more people who win smaller, but nonetheless significant, amounts of money every day.
Mega Fortune Dreams Jackpot of €7,437,199 Won at BGO Casino
BGO Casino with its extensive collection of excellent games, great promotions, and 100% guarantee of payouts has produced a multimillionaire right at the beginning of the year. The press release with the information about this win was presented by NetEnt, the developer of Mega Fortune Dreams, was presented on the 3rd of January. A man from Cheshire county has managed to win an outstanding progressive jackpot of over €7.4 million. The man himself was in a state of shock at his luck, which is hardly a surprise seeing how he won using a single bet of €1.25. This isn't the first time that the Mega Fortune Slot has created a millionaire, and it definitely won't be the last. As all games by NetEnt, this one is beautiful, captivating, and obviously offers good chances of winning.
Featured Casino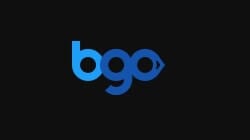 BGO Casino really does deliver in pretty much every aspect of their site, from the great range of games through to the fantastic selection of bonuses on offer. Welcome Bonus gives you possibility to win up to 500 Free Spins from Mega Wheel on 1st deposit. 18+. New players in UK only. 24-hour expiry. Max bet £2.50, max spins win £8 per 10 spins, max Bonus win £150, selected games & 65x wagering on winnings. No Neteller/Skrill. Deposit/withdrawal fees apply. Full T&Cs apply. Start playing today!
Mega Moolah €6,681,487 Jackpot Claimed at Zodiac Casino
It seems that if you are looking for the largest jackpots and a big dash of luck, Mega Moolah should be your favorite game as its progressive jackpot of over €6 million has been won not once but twice this year alone. This, most recent win, occurred on the 14th of March and turned a player who tried his chance at the 80 chances to become a millionaire Welcome Promotion from Zodiac Casino into a real millionaire.
The player decided to remain anonymous, so we cannot share their personal story. However, there can be no doubt that this win made a major impact on the person's life. The jackpot was won from a mobile device, making it the second largest mobile win in history. The first also was a Mega Moolah jackpot. It amounted to over €7.9 million and was claimed in August 2016.
Mega Moolah is one of the most popular slots developed by Microgaming. Since its launch, it has paid over €647 million in winnings. The jackpot on the slot has been triggered 31 times, 2 of which have occurred within the last three months. At the moment, the highest single payout in Mega Moolah belongs to Jonathon Heywood, who won the £13.2 million jackpot in October 2015.
Mega Moolah Player Wins €6,078,249 in Captain Cook's Mobile Casino
This win occurred on the 16th of January 2017 and brought a truly fantastic start of the year to a novice player who goes by N.C. The lucky person hit the jackpot when taking their first steps in the world of online gambling using the Captain Cook's Mobile Casino welcome offer. This goes to prove that mobile gambling is truly the future. The leaders of the industry definitely realize this truth, so every top-tier online casino today has a mobile platform.
Mega Moolah remains the record-breaking slot in terms of jackpots. It currently holds the Guinness World Record of the largest jackpot ever paid for both online and mobile slots. Considering this reputation and the fact that even after the most recent win, their progressive jackpot is already back to over €4 million, it's no wonder every major casino offers this game.
Mega Fortune Dreams €3.5 Million Jackpot Won at PAF Casino
A 62-year-old lady from Finland has started 2017 with a blast by winning about €3.5 million from a €1 wager within the first days of January. She tried her luck at the famous Mega Fortune Dreams Slot from NetEnt and won big time right away. The happy event occurred at PAF Casino that is renowned for its quality and reliability.
NetEnt definitely presents the major competition to Microgaming in terms of progressive jackpots. The slots developed by these companies seem to be the leaders in the millionaire-producing industry of online gambling. Therefore, if you are just starting your online casino 'career', you should consider trying these particular games.
However, there are thousands of other interesting options and many more jackpots to claim. For example, just within the last few weeks, over €4.2 million was claimed in jackpot payouts in PokerStars Casino. Seeing how PokerStars has only started offering online slots recently, this is a fantastic success for players. One of them is lucky beyond belief as they've just won $1.4 million on Millionaires Island. Note that this happy person has only used the casino portion of the PokerStars service twice.
The Biggest Claimed Jackpots of 2016: Recapping All The Biggest Slot Jackpots of Last Year
Record €5.8m UK Mobile Slot Jackpot Won
Can a £4 per spin bring you a jackpot that's equal to more than 170 years' worth of pay, based on UK employment data? This is actually the experience of a lucky librarian from Scotland who managed to get the winning spin on a Playtech slot game, Jackpot Giant. What's interesting about this slot jackpot game was that it was played on her mobile phone, an Android Galaxy S5. This clearly underscores the importance and the emerging influence of smartphones in casino gaming. According to reports, the player from Glasgow just wagered £4, and after making the spin, she was surprised and stunned to discover a string of numbers and symbols suggesting that she won the jackpot – that's 1,126,317-times her stake! Her massive winnings become the largest mobile slot winnings in UK at that time.
Mega Jackpot from Mega Moolah Worth Nearly €7 Million
Microgaming's Mega Moolah is known in the industry as a 'millionaire-maker' and for the right reasons. Lives are changed and fortunes are boosted because of this fun slot game. Last year, Microgaming scored another blowout, this time rewarding a progressive jackpot worth € 6,905,670.81. According to reports, the player has been playing for some time, when the game activated the bonus wheel game. It signals a jackpot round, but what truly excited the player was when all four jackpots were selected! Just like in other Mega Moolah jackpot offers, the lucky player gets the jackpot in one lump-sum payment!
Mobile Summer Extravaganza – €8 Million Won on Apple iPad
Yes, mobile slot and casino gaming works, and it can bring you the best jackpots. A perfect example happened last April 28, 2016, when a mobile player won another jackpot in the Mega Moolah slots game. This is the record for 2016, easily beating out the mobile slot jackpot won in January by a Glasgow-based player. This was the biggest progressive jackpot ever won on a mobile phone and based on the tradition, the player got his winnings as a one-time lump sum payment.
Mega Winnings with Mega Moolah, NetEnt Showers Player with €4 Million
If Microgaming has Mega Moolah, NetEnt boasts the Mega Fortune slots game, another certified millionaire-maker in many online casinos. Last year, this prolific slots game rewarded another player with  €4 million while playing at Maria Casino. Mega Fortune by NetEnt is a highly exciting game, loaded with luxurious items and symbols. With these winnings, the Swedish player will no longer have to dream about the good life by spinning the pricey symbols shown on the reels. With a €4,019,671 jackpot earned from the game, the 62 year old male player from Sweden now have the means to buy his own car, a house or other luxurious investments that can make the retirement even more memorable.
$10.7 Million at Wynn Las Vegas (a Bonus!)
Not everything that happens in Las Vegas, will remain in Las Vegas, well at least for casino winners. Last August 2016, it was reported that a woman from Hawaii staying at Wynn Las Vegas managed to win the jackpot worth  $10,777,270.51 from a penny slot game. The guest of the hotel and casino asked for her name to be kept confidential, was reported to have played the Megabucks machine, a Wynn Las Vegas exclusive that requires a wager of $3. This mega winnings made by the guest from Hawaii was confirmed by the casino through its Twitter page, asking 'How would you celebrate if you were the lucky winner of a $10.7 million jackpot…'
There you have it folks! Now, go visit one of the best online casinos and start your way to the jackpot!