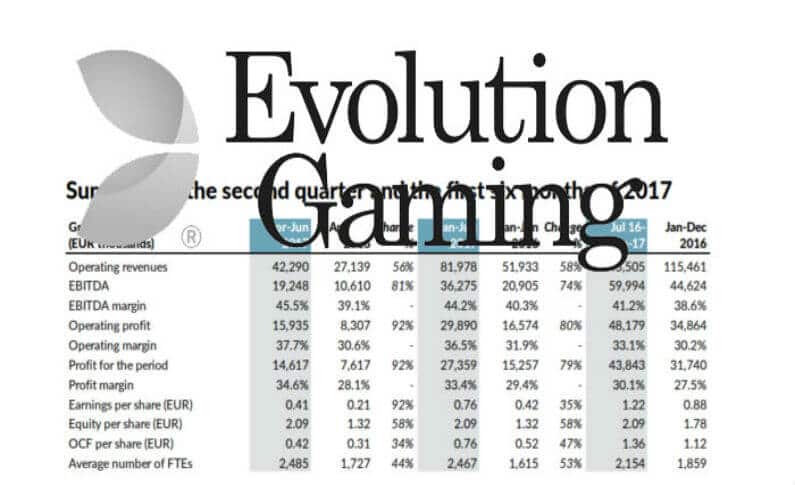 Posted in Industry
August 25, 2017
Evolution Gaming Boosting Top Live Gambling Developer Status with Doubled Profits
Launched only in 2006, Evolution Gaming has been the top live gambling developer for years. The company's status in the industry was reaffirmed again when they won the Live Casino Supplier of the Year title for the eights time running. The latest Evolution Gaming revenue report published online proves that this title is well deserved. Compared to the same quarter of 2016 the company's profits almost doubled.
Evolution Gaming Q2 Report – How Much Does the Top Live Gambling Developer Make?
The first number presented in Evolution Gaming's official press release on their Q2 interim report shows that this company definitely succeeds in business. In 2016, their operating revenue for the same period amounted to 27.1 million EUR.
No one can argue that it's a most impressive sum, especially considering the numerous challenges the business faced. Legislation changes in many countries and overall economic instability caused by Brexit and other factors hit the gambling industry hard. However, Evolution Gaming managed to show a steady profit growth even in these conditions.
Considering this, their leap in revenue is nothing short of astounding as in the second quarter of 2017 they made 42.3 million EUR. It's a 56% increase, which shows a growth rate few businesses across all markets can match. The profit Evolution Gaming got over this period surged from 7.6 to 14.6 million EUR.
In the beginning of summer, the company moved to Nasdaq Stockholm from the Sweden's First North stock market. Many people were impressed, but now it's obvious that this was nothing but the natural progression of events. Evolution Gaming is a business with a major capital, so its stocks rightful place is the market for such businesses. Note that the earnings per share reached 0.41 EUR in Q2 2017 (0.21 in 2016).
If one is looking for the right business to invest in, this definitely would make a great choice. Most importantly because Evolution Gaming shows no signs of stopping. Instead, it moves on to new regulated markets, opens new studios, and boosts its portfolio with extraordinary innovative games in the Live Casino niche. By its sound business decisions and continuous growth it sets the new industry standard of the top Live gambling developer. Considering how high this bar goes, it's safe to assume that this company will keep holding this title for some years to come.
Top 5 Evolution Gaming Casinos

Evolution Gaming – Plans for Future Development
Martin Carlesund, Evolution Gaming CEO, stated:
"The past 12 months have seen Evolution launch new tables and dedicated environments across all of our studios at an intense rate. There is no sign that this fast pace, and the demand for our Live Casino services, will let up"
This is definitely true. The stunning success of Dream Catcher, the first Live Casino game that isn't a table casino game is proof enough. Evolution Gaming literally took a gamble with that release and so far it has surpassed all expectations. The original idea was to create a Live gambling 'attraction' that will appeal to people who don't enjoy table games. The result was that even those who are fond of classics started playing Dream Catcher.
Players are starved for something new and extraordinary. The 21st century world offers a variety of original interactive entertainment, so it was the time for online casinos to expand their game list.
Evolution Gaming was a pioneer in this and will no doubt be one again. According to their CEO's announcement, the company continues working on new creative solutions. They are looking to develop games that will stand out and we are looking forward to see the results of this effort.
In the meantime, Evolution Gaming expands to new markets in order to get more opportunities to show off their products. The latest news is that they signed a deal with the Nederlandse Loterij from the Netherlands. This gives the company an in at one of the most profitable European gambling markets.
Evolution Gaming also remains top Live gambling developer for land-based casinos. Their technologies allow these businesses to integrate online casinos into their functionality. This creates amazing opportunities for growth in both directions. The land-based operator gets a strong footing in the online gambling industry and their website gets an infusion of traffic from players who want to experience the actual luxury house.
Evolution Gaming to Open a New Studio in Tbilisi by 2018
To power all their incredible games and give room for new creations, Evolution Gaming requires top-of-the-line studios to stream live video from. At the moment, they have seven, two of those 'central' studios that are largest and fully independent.
The new studio set to launch in Tbilisi Georgia in the beginning of 2018 will join that list. It will house the newest ambitious projects from the top Live gambling developer. This might mean anything considering how often Evolution introduces revolutionary ideas.
The Tbilisi studio will expand the company's reach to the East, while the West (North America in particular) will be covered by their Canadian studio that will officially launch at the end of 2017.