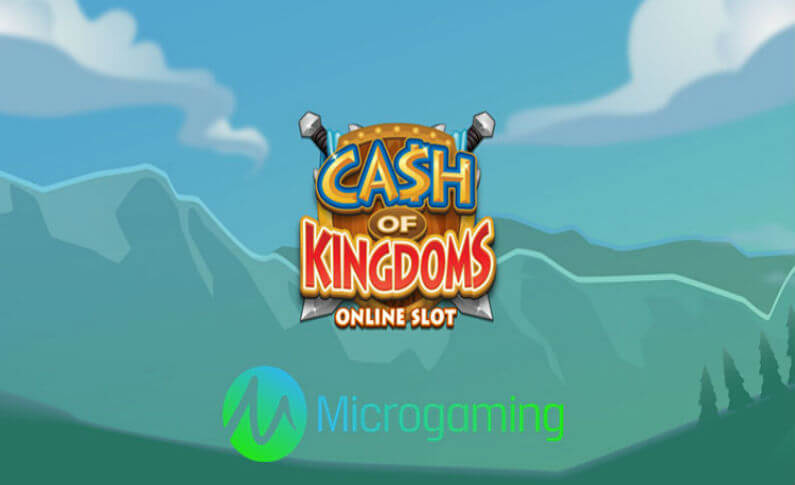 Cash of Kingdoms Released by Microgaming
If you belong to the group of people who are following daily news on everything that goes on in the online gambling industry, as we do, then you would know that Cash of Kingdoms was one of the most anticipated games this year. Microgaming announced this title back at ICE Totally Gaming event in London in February this year. Their fans waited eight long months for the official launch, but it finally paid out.
Just when everyone thinks that there's no way or even need for Microgaming to step up their game and come up with an outstanding game that has 3D graphics, fun features, high RTP and a beautiful design, they prove everyone wrong. In collaboration with Slingshot Studios, they built the game for Microgaming operator exclusively, and what's even more interesting is that this is the first game developed under the official Slingshot Studios name. However, their team was formed over the past two years is packed with veterans in various fields of expertise required for this industry, such as designers, programmers, testers, managers, etc.
Microgaming introduced Slingshot Studios to their audience back in September, and judging by comments in official forum threads, people were a bit sceptic as there had been no previous success stories behind the team. However, those who were willing to dig deeper than others and do their research realised that the team is full of people who previously worked in massive corporations in the online gambling industry, where they worked on some of the most popular slot machines and other online gambling games for years.
The Gameplay
Here's how the symbol fields are structured:
Five reels

Three rows

Fifteen paylines
The paylines are fixed, so you'll have to bear with all 15 activated each round. This means that you'll have to pay for each line, but to be fair, the vast majority of gamblers always keeps all the paylines active.
The 3D animations are activated whenever you land a winning combination, but also during the spin itself, thanks to the special features, which we will go over in a minute.
Symbols are filled with characters and objects that first come to anyone's mind when thinking about medieval kingdoms:
Warriors

Mages

Archers

Dwarfs

Thieves

Swords and shields

Magic books

Bows and Arrows

Explosive Barrels

Bags full of gold
As you can see, the Slingshot Studios designer team wisely chooses these symbols, as there are five different characters along with five objects, each belonging to one of the characters. By the way, we listed them from the most valuable (Warrior) to the least valuable (Bag full of gold) on our list.
Features
What would a slot machine be like nowadays if it came out without any bonus features? It's hard to even think about it, as we most likely won't see it anytime soon. In fact, additions to the regular game might be the reason why people decide to play a certain machine, especially if there are multiple features, with generous rewards.
The two symbols responsible for the activation of all bonus rounds are scatters and wilds. A wild card acts as a substitute for all the regular icons we listed a moment ago. However, that's not where the power of the wild card stops. Even though wilds can appear only on reels 2, 3, and 4, they can come in stacks on the 2nd and the 3rd reel. During the Free spins, they become super stacked.
The Invading Wilds feature causes full stacks of wilds on reels 2 and 4, but besides that, they also turn the reel right next to their completely wild as well. The third reel becomes wild when both 2nd and 3rd are invaded, and wins from this event will double up your prize, but only during the Free spins.
Just like wilds, scatters appear only on the three middle reels. Three scatters will do two things at the same time:
Activate 10 Free spins

Pay 2x of the total stake
Being able to re-activate Free spins is an extremely powerful tool, which we do not see in Cash of Kingdoms, but there's a compensation for that – each time you land a scatter symbol during the Free spins, you'll get an additional free roll.
Having trouble to understand the meaning of paylines, reels, scatters, wilds, symbols and other weird terms? Stay calm – we got you covered! Just head over to HitCasinoBonus Navigator – Your glossary to master online terms & abbreviations.
Betting Span
The times have changed, and the number of people gambling online has increased rapidly over the past few years. That's why the developers and casinos needed a completely new approach to the market of online gambling. They can't always satisfy all the customers with just one product, but they can definitely try as hard as they are able to.
That's why Microgaming decided to go with a betting range that looks like this:
The minimum bet is 0.01 per line

The maximum is 32 coins per line, equally a total of 480.00 of the currency you're gambling with, applying a determined conversion, if there is one
You might be used to seeing the stake sizing panel at the main screen under the reels, but the developers from Slingshot Studios placed it in a separate window, which can be opened by clicking the "Chip" button on the left side of the reels. Here, you can change the number of coins per line, as well as the coin value.
Top 5 Microgaming Casinos