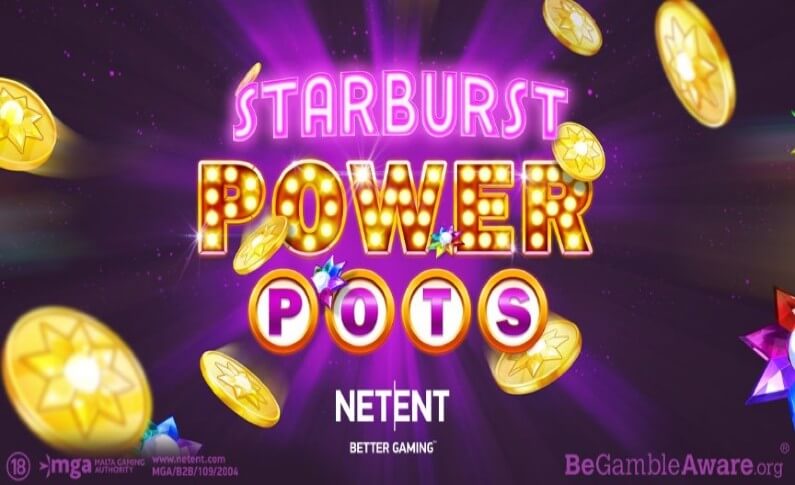 Posted in Industry
March 2, 2020
NetEnt Launches the Revolutionary Community Jackpot System
In today's day and age where jackpots are a big deal for a lot of players, NetEnt went the extra mile by introducing the ground-breaking concept called Starburst PowerPots. By the looks of it, it's going to be a huge hit. Here's everything we know about this potentially innovative feature. 
A Brand New Concept
Typically, must-drop jackpots accumulate until the pot builds up to a certain level, and then they trigger. In NetEnt's innovation, players will play together to fill up the PowerPots progress bar. Once the progress bar reaches a certain level, the community pot will be triggered, and the sum will be split among the random number of players. What's great about this feature is that you don't even have to be online to grab the hefty award! 
Although this entire concept revolves around their iconic creation – Starburst, the Community Jackpot System will be available across an entire family of NetEnt's finest games. The company has stated that this is only the beginning – they will also include several prizes, as well as a major progressive jackpot which will give players the chance to win mind-blowing sums. 
Check this out and learn more about progressive jackpots!
The feature with Starburst tokens will be released across numerous casino brands. Operators will be given the possibility to modify the contribution and prize setups, as well as configure RTPs. This means that the size of jackpots will vary depending on where you play. With all this in mind, we'll wait to see this fantastic feature before we jump on the bandwagon. But it certainly has the potential to be on par with recently acquired and immensely popular Red Tiger's Daily Jackpots.
Considering how popular all NetEnt's creations are in the gaming community, especially Starburst, this rewarding feature is probably going to win the hearts of many casino enthusiasts across the world. 
The official release date is still unknown, but we expect to see Starburst PowerPots available at many NetEnt casinos in the first half of the year. 
Giving Their Utmost Best to Stay Ahead of the Competition
"Starburst PowerPots was developed in line with our customers' and players' expectations, taking cue on everything from art assets to mechanics. We are using leading-edge games design approaches to make this jackpot family with our most powerful games simple to understand, yet compelling. Using the Starburst brand will create massive acquisition while these jackpot mechanics will drive huge engagement for players," said Bryan Upton, NetEnt Director of games.
"This is community gaming without the overengineering and overthought on what slot players really want. This product can fit into any operators' portfolio and deliver any experience, from large life-changing prizes to super-fast hitting jackpots," added Upton.
Speaking of jackpots, NetEnt recently released an Asian-themed game called Gold Money Frog. This game offers a progressive jackpot with three prize-levels — minor, major, and super. 
NetEnt is, along with Microgaming, the leading provider in the jackpot scene. Microgaming recently released Wheel of Wishes progressive slot which boasts a revamped WowPot progressive jackpot. 
Top 5 NetEnt Casinos