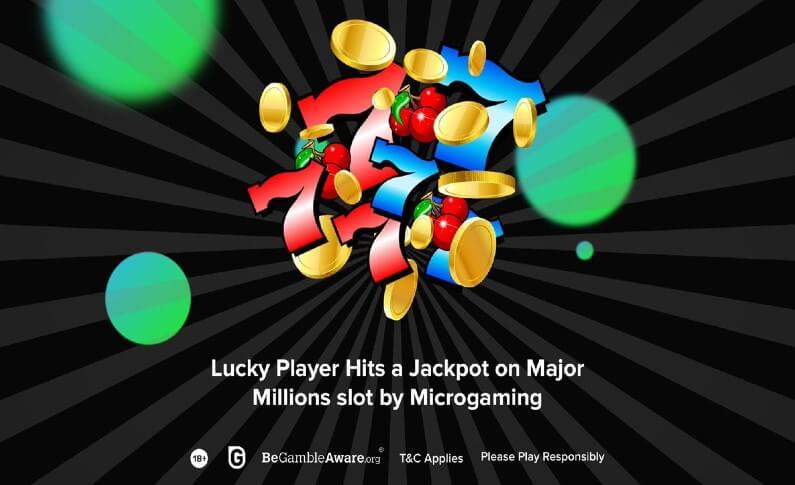 Posted in Winnings
April 26, 2020
Microgaming's Major Millions Slot Throws a Major Jackpot
Microgaming stands firmly among the top five slot providers in the online gaming realm, and for a good reason. It's no wonder players are thrilled to see Microgaming games available in online casinos, as this renowned provider offers the highest jackpots when it comes to online slots.
As a matter of fact, some of the greatest jackpot payouts in history came from Microgaming slots. Today, we are talking about one such jackpot that one lucky player hit recently.
All great facts about Microgaming can be read here.
Microgaming Bursts Cashing Out More Than €1.5 Million
This year will undoubtedly leave a mark on the life of one lucky punter who decided to try out Microgaming's Major Millions slot on March 14. This was probably the best decision ever, as the slot cashed out a €1,650,910.31 jackpot!
The name of the winner and the magic casino is still a well-kept secret. Nevertheless, this is excellent news for the whole online gaming society. It will serve as an example for other punters that everything is possible in the world of spinning reels.
About Major Millions
If you don't know anything about Major Millions, it's high time to change that. This 3-reel classic Microgaming progressive slot features up to 15 paylines and is known to cash out huge prizes.
The gameplay with a cartoonish military theme offers simplicity that makes it suitable for beginners. On the other hand, the maximum of $3 bet per spin that activates the progressive jackpot attracts high rollers as well.
Compared to other classic slots, Major Millions frequently includes multipliers and Wilds, making a game more prone to cash out big time.
Learn more about progressive slots and progressive jackpots!
How to Hit a Jackpot on Major Millions
This fantastic title offers you two ways to get your hands on a spectacular jackpot. For the players who are more into traditional slots, there is the 3-reel classic Major Millions slot with 3 paylines. However, don't forget that, in order to trigger the jackpot, you need to bet $3 per spin and land three Wild symbols on the third payline.
If you prefer a more modern version of Major Millions, then the 5-reel video slot should be your choice. This one has a total of 15 paylines and allows a jackpot consisting of 5 Wild symbols on the 15th active payline. Still, you need to follow the rule of wagering $3 per spin.
What is wagering? Educate yourself in our guide.
You still can't decide which one to turn to? Maybe we'll help you when we tell you that there's an equal chance to hit the progressive jackpot whichever version you opt for.
Jackpot is Another Name for Microgaming
This spectacular pile of €1,650,910.31 is only one out of many Microgaming's jackpots. Major Millions progressive online slot is, along with other Microgaming titles, one of the most significant jackpot providers in the industry.
High payouts and player interest make it one of the most played slots in the market. This time it was around €1.5 million, and next time it can be even bigger. Therefore, the best thing you can do right now is to visit your favourite online casino and spin those reels.
Top 5 Microgaming Casinos