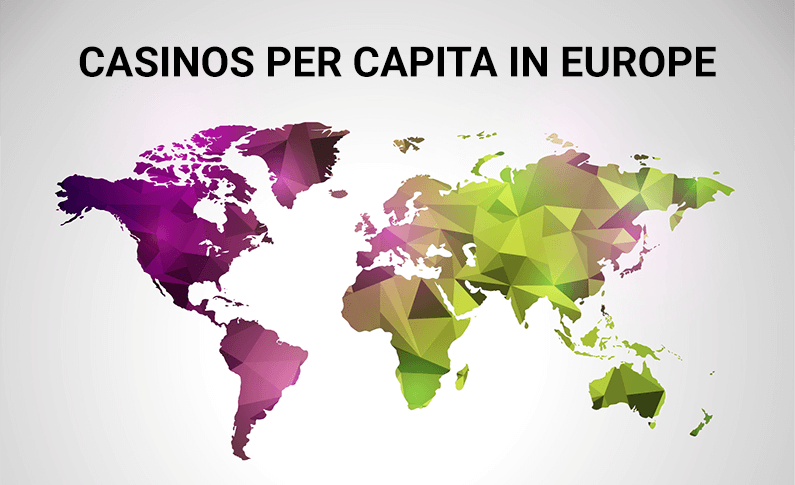 Posted in Industry
August 26, 2017
Infographic: The Highest Number of Casinos Per Capita in Europe, Republic of Macedonia up top
When it comes to the listing of the 'bests' and 'ranking', the casino industry is full of exciting details and information. For example, the country with the highest spending, United States take the lead, spending $116.9 billion, clearly ahead of Japan, China and Italy. Sure, most online casinos today restrict US players, but its brick and mortar casinos are thriving, powering its economy, and providing the players with their entertainment fix.
In terms of per capita spent (or how much an average player spends in casino) Australia takes the lead, with $990, outspending the United States, Finland, Ireland and Singapore. And the world's largest 'gambling mecca', Macau is seriously ahead, thanks to posh casinos and hotels. But there's another critical and exciting statistic that is sure to appeal to industry watchers and players – the number of casinos per capita. This time, casinos per capita focus on the number of casinos ranged against the population, which should give us an idea as to the popularity of gaming in that part of the world. The information and the results of this exercise may surprise you. Here, we rank the top 7 countries in Europe with the highest number of casinos per capita, and you'll be surprised at the countries that are included in the list. 

1. Republic of Macedonia (1 casino for every 299,429 residents)
A relatively new independent country formed after the break-up of Yugoslavia, Macedonia tops our list in terms of number of casinos per capita. Sure, you will only find 7 casinos in this small land-locked country, but with a small population of 2,096,000, its per capita is the best in Europe, having 1 casino for every 299,429 residents. The center of casino action in Macedonia is Gevgelija, offering 3 gaming facilities, including 62 table games, slots and video poker machines. If you are planning to visit Macedonia for the casino action, check out Casino Flamingo Hotel, located in the city of Gevgelija. Aside from the hottest casino action, Macedonians are also known for their love for lottery and sports betting. The sports betting facilities are run by Lotarija NA Makedonija AD Skopje. In Macedonia, sports betting is a popular form of entertainment, and surveys suggest that 37 percent of the population are into sports betting.
2. Ireland (1 casino for every 305,769 residents)
There are now 16 casino gambling facilities in Ireland, making it a great destination for tourists looking for casino action. In 2015, there are only 14 casinos, but with an addition of 2 new casinos, Ireland gets a high ranking in the list of best casino destinations, in terms of number of casinos per capita. Today, it boasts 1 casino for every 305,769 residents. The casino action is available in 3 Irish cities where gambling is considered legal. Most of the casinos are located in Dublin, featuring 14 gaming facilities, 463 poker and slot machines and 27 table games. It's best and largest gaming facility is Emerald Casino- Clondalkin Q's.
3. Switzerland (1 casino for every 386,754 residents)
There are now 21 land-based casinos in Switzerland, its number boosted thanks to its legalization in 2000. The history of casino gaming and entertainment is complex in Switzerland, with the games repeatedly de-legalized and legalized. Today, casino entertainment is now legal, and the development of the casino industry was first started Casino Barriere de Montreux, which according to historians, was situated in Lake Geneva (1881). As of this writing, casino action can be experienced in 20 cities, and its primarily centered in Mendrisio. The largest casino is Swiss Casino, offering a variety of table games for enthusiasts and tourists. Located in Zurich, this casino features 400 poker and gaming machines, 26 table games and 6 poker tables.
4. Bulgaria (1 casino for every 502,710 residents)
Bulgaria may not be the first country in Europe that comes to mind when it comes to a perfect gambling destination, but it's starting to get its rightful share of information. As of 2015, there are 14 casinos in the country, and with a population of just over 7 million, it ranks high up in this list of number of casinos per capita. Casino action in Bulgaria is scattered in 5 cities, with the city of Sofia leading the charge with 6 gaming facilities, more than 600 slot and video poker machines and 53 table games. It's largest casino facility is Sofia Princess Casino, offering 16 table games and more than 200 video poker and slot machines. Aside from casinos, residents and guests can count sports betting and parlours.
5. Montenegro (1 casino for every 657,394 residents)
Montenegro is a relatively small European country, but when it comes to exciting casino action, it's one of the most popular destinations. This small country was featured and romanticized in the movie Casino Royale that featured Daniel Craig. In the movie, the country 'was featured' as the scene of a casino action where Bond was seen playing poker at Hotel Splendid in Montenegro. But if one checks this, no hotel exists as described and shown in the movie, but there's a Hotel Splendido located in Czech Republic. Either way, it helped helped boost tourism and the casino industry in Montenegro. In 2015, Montenegro is home to one popular casino, but it's more than enough to put the country on this list, thanks to its relatively small population.
6. Austria (1 casino for every 722,129 residents)
There are 12 casinos operating in Austria today, with revenues up to EUR 300 million (2015). As a European country that has legalized gambling, it offers a number of casino options for its residents and guests. Gaming in Austria is focused in different niches and segments that include sports betting, horse racing and casinos. The hottest casino action is located in Innsbruck, offering 3 casino facilities, 196 slots and gaming machines and 22 table games. The largest casino available is Casino Bregenz, in Bregenz, Austria. Players can expect 30 table games, 295 poker and gaming machines and 7 poker tables.
7. Portugal (1 casino for every 984,119 residents)
Portugal offers a strict regulation of its casino industry, and certain rules and laws are in place to ensure responsible gaming. As of 2017, Portugal is home to 11 casinos that are legal with licenses, with a per capita of 984,119. The regulated casino market of Portugal is home to some of the popular casino selections including craps, American and French Roulette, chemin de fer, poker, poker tournaments and slot machines. To ensure that the casino playing environment is regulated, only players at least 18 years of age are allowed to play, and casinos are only allowed to operate 12 hours a day.