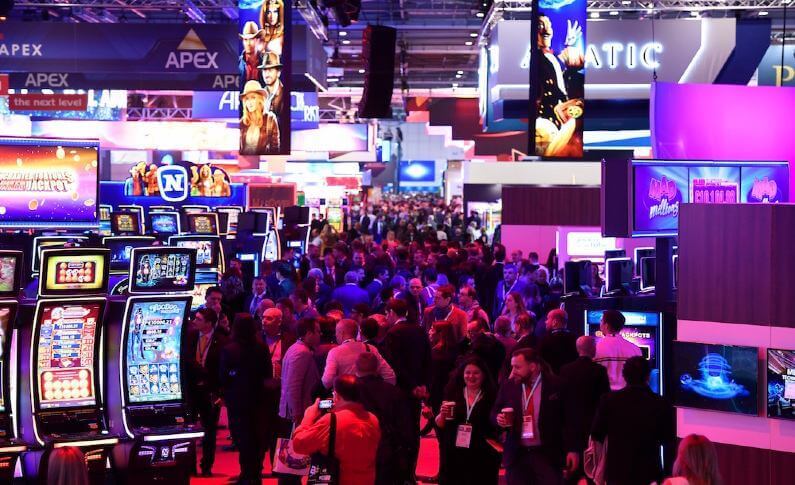 Posted in Industry
March 15, 2020
ICE 2020 Conference Reveals Exciting New Slots
Trust ICE London is to shake up the iGaming industry in exciting new ways. Established as the leading global gaming hub for all industry experts and shareholders, the conference offers everyone with an insight into the world of games and gambling services. And ICE 2020 in London is not an exemption; for the conference hosted last February 4 to 6, 2o2o, it brings in more than 35,000 attendees and some of the innovators and forward-thinking software vendors in the business. More importantly, the conference brings in something new to the table that can excite not just the operators but also the casino players. This year's conference focuses on important gambling products and services like payments, table games, online protection for players, advertising, new slot technologies, and other technologies.
One important feature of the conference is the strong focus on eSports. With the popularity of Counter-Strike and the release of Call of Duty for mobile, it's only natural that operators pay attention to this new gaming niche. As a testament to its growing popularity, the organizers assigned an 8,000 sq meter arena where teams and players can battle it out for the prizes worth $250,000. For this tournament, players play Counter-Strike: Global Offensive. Just like the regular tournaments, the area featured a stage, commentary area, and a bar.
Also, this popular iGaming conference is all about networking between and among iGaming professionals and stakeholders. Of the hundreds of participants, 73 were first-timers from more than 30 territories. Some of these new participants came from Singapore, Lithuania, and Curacao.
Finally, an iGaming conference is never complete without offering an insight into the growing business of online slots. The 2020 ICE London did not disappoint since it served as the platform for software vendors and operators to announce a set of new slot games that boast exciting features, gameplay, and technologies. Here's a quick look at the freshest slot games you can expect in your favorite online casinos in the next few weeks or months.
Street Fighter II: The World Warrior by NetEnt
If you're a slots enthusiasts and grew up playing video computer games in the 1980s and 1990s, then the Street Fighter II release from NetEnt will excite you. Based on the popular video game from Capcom, this new slot will revisit the many characters that have defined your childhood. Here, you can expect some of the popular fighters like Chun Li, Blanka, M. Bison, Balrog, Vega, Ken, Ryu, and E. Honda. 
NetEnt did not release specific details regarding this new slot game. However, we can expect that the software company will stay true to the spirit of the game. In a statement, Bryan Upton, Director of Games, is excited to tap into this 90s classic. Players can expect this new slot game in NetEnt partner casinos starting May 21, 2020.
Read all there is to know about NetEnt in our comprehensive guide.
Game of Thrones Power Stack by Microgaming/Slingshot Studios
The TV series may have ended, but its influence remains. Today, there are several games and shows that are inspired by the award-winning series by HBO. A popular spin-off game is the Game of Thrones Power Stack which was announced by Microgaming at ICE London. According to Jean-Luc Ferriere of Microgaming, this new game will offer lots of features that can provide players with an authentic Game of Thrones-inspired slot game. The company did not specify the exact date of the release of this new slot.
Find out more details about Microgaming here!
Gordon Ramsay Hell's Kitchen Slot Game by NetEnt
As one of the leading innovators and designers of slot games, NetEnt has consistently provided the industry with exciting slot titles. This year, NetEnt is pushing the creative boundaries once again with the announcement of a new slot game based on the popular show called Hell's Kitchen by Gordon Ramsay. Developed in partnership with Global Merchandising Services, this new slot game will capture all the rage, action, and energy associated with the show. However, NetEnt did not share the release date of the new game.
The Trillionaire by NetEnt
NetEnt continues to push the boundaries when it comes to slot design and collaboration. And during ICE 2020, it announced another intriguing collaboration to create another exciting slot game called 'The Trillionaire'. Designed in partnership with Fashion TV Gaming Group, the slot game takes inspiration from the song 'I want to be a Trillionaire'. This new game features Anja J of FTV and this can serve as an opportunity for the gaming company to tap into the 2 billion-strong viewers of the channel. 
Fashion TV is best known for its fashion, glamour, and luxury and you can expect this in the new slot game. According to COO Shai Kaplun, they approved the partnership thanks to the ability of NetEnt to deliver premium slot games. NetEnt has announced that this new game will be available in partner sites in the last quarter of the year.