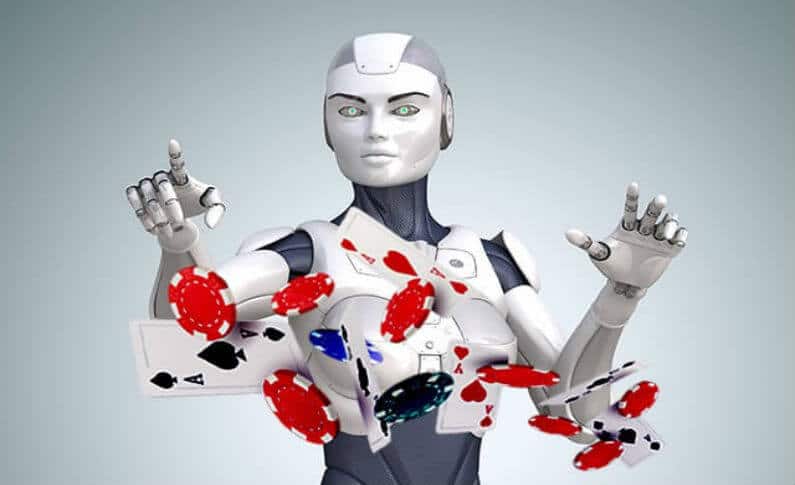 Posted in Industry
July 16, 2018
AI in an Online Casino to Become Reality with 888 Casino's New Platform
Online since 1997, 888 Casino is one of the most popular, reliable, and entertaining casinos in the online gambling industry. Last year has been a bit hard on it with the news of Brexit hitting the stocks of the company. However, despite this, the casino has shown a 4% growth in revenues in 2017. This year it is sure to increase that number quite a bit as the group COO Itai Pazner announced they will be launching a new AI-powered platform. This is set to be a revolutionary product as no online casino are actively using machine learning yet.
Featured Casino
888 Casino continues to be the undoubted leader in the online gambling industry since its launch in 1997. The casino is offering the largest number of games for online gambling covering the array 888 Backgammon, 888 Sports, 888 Bingo and 888 Poker, to provide the unmatched online gambling fun. Read through our review and learn how to claim a huge Welcome Bonus package worth up to €1,500! 18+ only, T&Cs apply (see link below)
What to Expect from 888 Casino's New Platform?
There are two very important things you need to understand about the 888 Casino platform about to launch in a few weeks. The first is that it's a premium-quality product. We definitely shouldn't have expected anything less from any product with the legendary '888' attached to it.
The other thing is that the platform is developed in-house specifically to promote the development of the 888 Casino vertical. As mentioned before, this particular section of the business has shown a 4% growth in 2017 compared to 2016. This is good but definitely not great and nowhere near 'positively competitive'. Rapid growth in revenues is a common thing for top online gambling operators. So, such a small increase in revenue has definitely sent alarm bells ringing all over the 888 Casino team and the Cassava Enterprises Ltd. that owns it.
Due to it being a premium-quality in-house product, the new platform simply cannot disappoint. Over the 20+ year history of its existence, 888 Casino has proven that it's perfectly capable of doing premium-quality everything. You will no doubt witness that yourself once the new platform launches. We can already state that it will be sleek, efficient, and user-friendly.
As the platform was developed by the people working in the casino for it specifically, it perfectly suits the needs of current players. After all, a project this big was definitely built on the tons of data the team managed to collect over the years. This level of customization and personalization means that the new platform will definitely be perfect and meet all players' expectations.
Most importantly, as it will be constantly monitored by developers and have AI and machine learning elements embedded into it, we can expect to see it improve right before our eyes. Constant learning and improvement is what AI is all about, so that's what all 888 Casino players will get.
On the downside, the exact features of the new platform are shrouded in mystery. Even the speculation on this subject is quite limited as with no official information forthcoming, online gambling enthusiasts have a hard time predicting what exactly an AI-powered online casino platform will be like.
What's the Deal with AI in Online Gambling Today?
There is a lot of controversy surrounding the use of Artificial Intelligence technologies in online gambling. Players are afraid (and rightly so) that the machines will make winning an impossibility as the current data states that an AI is capable of accurately predicting player's behavior.
That is a highly uncomfortable thought all on its own as no one likes to think that their impassionate actions can be pre-calculated by a machine. Thoughts to Skynet come to mind when one starts to dwell on the potential of that.
However, predictive abilities of AI solutions offer a great boon to operators. These solutions allow to spot cheating patterns right away. This definitely makes online gambling more secure and everyone but cheaters themselves win in this situation.
Other implementations of AI in online gambling mostly have to do with collecting and processing players' data. Operators require it to see how every part of their casinos perform and understand where and how they can improve. This boosts the user experience, so again the situation is a win-win.
What exactly will the new 888 Casino AI-powered platform do is still unclear. However, you can be sure that it will be using predictive analytics for making your gambling experience both safer and more fulfilling. The tremendous data analysis work conducted by AI enables greatest levels of personalization available today. Thus, you can expect 888 Casino to become better and more interesting.
As to the rest, we'll have to wait and see. The controversy and anxiety surrounding the rise of Artificial Intelligence technologies is not likely to disappear anytime soon. Hundreds of science fiction books, TV shows, and movies have seen to that.
However, the practical benefits of AI tech cannot be denied. As users we definitely win because the platforms powered by the machines that can learn adapt much better to our needs. This is what we should be focusing on, instead of the horror stories created by undoubtedly talented storytellers. There are many works of fiction that tell about the rise of all kinds of deadly powers, ranging from machines to alien insect invasions. One definitely shouldn't let these tales to hinder the progress of humanity.